Skepticism greets Jay-Z, NFL talk of inspiring change

By Bryan 18X Crawford and Richard B. Muhammad The Final Call Newspaper @TheFinalCall |


When Jay-Z decided to engage in a business relationship with the NFL, the hip-hop mogul had to expect to receive some backlash. But over the course of days after the announcement that his Roc Nation company would take over the NFL's entertainment event platforms—like the Super Bowl—while also helping push the league's newly created "Inspire Change" initiative, the news wasn't met with broad joy or optimism.

Jay-Z was roundly criticized for his decision by many, while others argued it was too early to come to any definitive analysis of what was happening and the end game Jay-Z had in mind.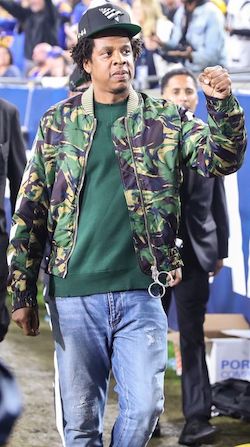 Music artist Jay-Z is seen on the sideline during an NFL football game between the Kansas City Chiefs and the Los Angeles Rams, Nov. 19, 2018, in Los Angeles. Photo: Ben Liebenberg via AP


Yet the hip-hop mogul was accused of allowing the NFL to use him to bury Colin Kaepernick and the spirit of his protest and even called an outright sellout. At the Roc Nation offices in Manhattan, Jay-Z and NFL commissioner Roger Goodell hosted select members of the media to formally announce the partnership.

Later questions arose with reports that Jay-Z would become or was working on becoming an NFL owner, which was not revealed until after announcement of the NFL partnership. Then there was the Aug. 19 tweet by New York-based radio host Funk Master Flex about Jay-Z and Atlanta-based producer and performer Jermaine Dupri and advice to back off of an NFL deal. "I just got off the phone with Jermaine Dupri … he confirmed that when he was working with the NFL last year, he did get a call from Jay-Z asking him .. 'How deep are U in with the NFL?' Expressing … 'That might not be a good idea.' "

"Jay-Z had multiple reasons for becoming part of the NFL family, and TMZ Sports has learned one of them is that he is going to become part owner of an NFL team ... and it's going to happen soon," TMZ reported Aug. 16. "We're told Jay wants to become a part owner 'because he's a huge fan, already has a sports business and wants to continue to be a change agent for the NFL.' "

" 'Jay-Z claimed to be a supporter of Colin [Kaepernick],' Carolina Panthers safety Ed Reid said to reporters while wearing a No. 7 jersey stitched with the phrase #IMWITHKAP," the Washington Post reported. "[He] wore his jersey, told people not to perform at the Super Bowl because of the treatment of what the NFL did to Colin, and now he's going to be a part owner. … It's kind of despicable." Mr. Reid has been a supporter of Mr. Kaepernick and fought his own battle with the NFL over his anti-police brutality protests.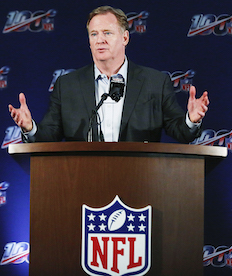 NFL Commissioner Roger Goodell speaks to the media during the NFL football owners meeting on May 22, in Key Biscayne, Fla. Photo: AP Photo/Brynn Anderson



"I think Black people have to be very extremely cautious and careful about calling people that they disagree with sell-outs for neo-colonialists and the like," commented Dr. Michael Eric Dyson, during a CNN interview. Those who are protesting should continue protest and the blackballing of Mr. Kaepernick is an important issue, he said.

"We can agree or disagree but we should not name call," said Dr. Dyson, author of the new book, "JAY-Z: Made in America." "The enemy is White supremacy, White nationalism, the inability of White owners to acknowledge the humanity of Black people across the board if they refuse to hire Colin Kaepernick. At the same time, Jay-Z is talking about this is what we are going to do."

Leadership and guidance are needed alongside a blueprint to make things better, and players can still protest, two things can be done at the same time, argued the Georgetown University sociology professor. "Let's stop the name calling and figure out what we can do in concert together," he advised.

"The concern of the average person was where is Colin Kaepernick? Where is he on this partnership?" commented Mark Thompson, Sirius XM broadcaster and a contributor to the Roland S. Martin daily digital show, who was in the Aug. 14 Roc Nation-NFL meeting. "Any deal that any Black person makes with the NFL should include the blackballing of Kap being lifted and him being hired to play football again."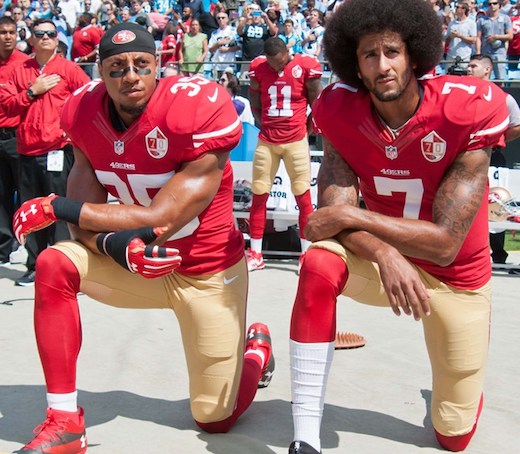 San Francisco 49ers Eric Reid and Colin Kaepernick take a knee during the National Anthem prior to their game against the Carolina Panthers in Charlotte, North Carolina, Sept. 18, 2016.




Mr. Kaepernick's girlfriend, New York radio personality Nessa Diab, said of Jay-Z's newly formed partnership with the NFL, "I don't mind you doing a business deal—but I do mind you wrapping it in social justice when you're working with an organization that denies someone an opportunity," she said on her Hot 97 radio show. "The disappointment in Jay-Z isn't in the partnership. The disappointment is wrapping it in social justice."

Maybe it was just bad timing for the announcement? After all, Jay-Z and Mr. Goodell held that press conference on the three-year anniversary of Mr. Kaepernick's kneeling being noticed and made public. The quarterback tweeted a video that included images of Walter Scott being shot and killed in South Carolina, Eric Garner being choked to death by NYPD, Luis Gongora, a homeless man in San Francisco who was shot and killed by police, and many other shootings captured on video in which officers involved received little to virtually no disciplinary action. The caption of the tweet read, "Today marks the three year anniversary of the first time I protested systemic oppression. I continue to work and stand with the people in our fight for liberation, despite those who are trying to erase the movement! The movement has always lived with the people!"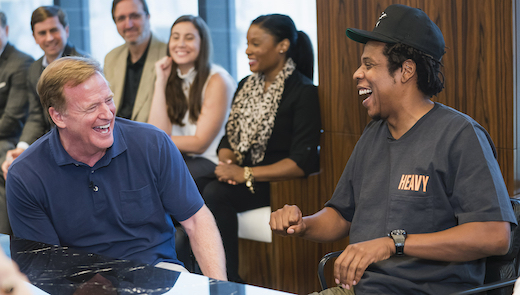 NFL Commissioner Roger Goodell, left, and Jay-Z appear at a news conference at ROC Nation on Aug. 14, in New York. The NFL and ROC Nation, Jay-Z's entertainment and sports representation company, announced Aug. 13 they were team- ing up for events and social activism, a deal Jay-Z said had been in the works over the last seven months. Photo: Ben Hider/AP Images for NFL
Was this a veiled shot at Jay-Z, who famously wore Mr. Kaepernick's jersey during live performances? The same man who turned down an appearance at the Super Bowl because he was standing in solidarity with the quarterback? Or was it a shot at Roger Goodell and the NFL, who have aggressively tried to curb any on-field protests while the league tries to change its negative reputation? Is Jay-Z really a pawn in what Nessa called a "PR stunt" on the part of the NFL? He doesn't seem to think so.

"We forget that Colin's whole thing was to bring attention to social injustice. In that case, this is a success," Jay-Z said at the media event. "This is the next thing, because there are two parts to the protest—you go out and protest, and the company and individual says, 'I hear you. What do we do next?' "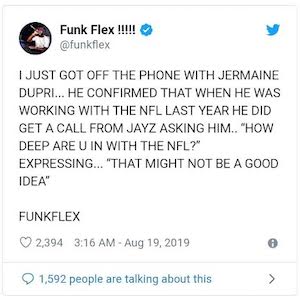 Aug. 19 tweet by New York-based radio host Funk Master Flex about Jay-Z and Atlanta-based pro- ducer and performer Jermaine Dupri.

What do we do next has been a question since February when it was announced that Mr. Kaepernick had reached a settlement with the NFL over his grievance that he was blackballed from the league. Mr. Kaepernick later secured a multi-million dollar Nike deal as a result of his activism, and started his "Know Your Rights" camp for Black and Brown youth.

"Honestly, that's where I have some criticisms for Kap," Mr. Thompson said. "It's still not clear if his settlement means that the movement to get him hired again is over. He needs to provide leadership on that and say something on that piece … . You can't be half a leader. You can't inspire people to something and then don't talk to them anymore. Does Kap expect the public to continue its boycott of the NFL until he gets a job? For those of us in the social justice movement, it's unnatural to shut down a movement before we've gotten justice. In making a settlement without a provision for him to speak to people was also a shortsighted move. That's like Dr. King and the Montgomery Improvement Association, suing the city of Montgomery in the Supreme Court over segregated buses, and then during the middle of the boycott, they reach a settlement and then don't tell anybody whether they should continue the boycott or not."

"People who are comparing Kaepernick's settlement to Jay-Z's business deal need to step all the way back," argued Elie Mystal on AboveTheLaw.com. His Aug. 16 piece was titled "Colin Kaepernick Settled His Grievance, Jay-Z Is Just Taking The Money."

"There seems to be some confusion about the difference between Colin Kaepernick settling his collusion grievance with the National Football League before an arbitrator could rule on the merits, and Jay-Z allowing the NFL to paint itself in Hovaface in exchange for some Super Bowl money. The mischaracterization seems to be: Kaep 'took the money' and Jay-Z took the money, so it's all the same and so now let's get READY FOR SOME FOOTBAW!!!"

"The NFL collective bargaining agreement is notoriously crappy for the players. Kaepernick, and fellow NFL player Eric Reid, filed their grievance in October 2017. In August 2018, the court dismissed the NFL's motion for summary judgment. This was crucial. It meant that, according to the arbitrator, Kaepernick and Reid had made enough of a showing that collusion might have happened that his legal team could continue gathering evidence and making their case. Surviving the motion for summary judgment was a major victory for the players. That's also why the NFL went into settlement mode. … Every lawyer on the planet would have advised Kaepernick to take the settlement. Only a very bad client would ignore this advice."

Speaking from his National Action Network in New York, civil rights leader Al Sharpton advised against being drawn into a debate about Jay-Z and Colin Kaepernick. The issue is justice for those killed by police officers and those brutalized, he said. "Don't let them distract you fighting the wrong fight," Rev. Sharpton said.

"I got into Atlanta … TMZ waiting there. 'Rev. Al, what do you think about Jay Z? They call him a sellout and all that.' I said, 'The issue is Jay Z has done documentaries around and about [Kalief] Browder and other things. I'm not attacking Jay Z and I won't participate until Kaepernick has a job. The issue is Eric Garner. This issue is Tamir Rice," he said Aug. 17 in a clip posted on Twitter.

In fairness, Jay-Z has used his platform and enormous wealth to draw attention to a number of issues that have plagued Black and Brown communities for decades; from police brutality and wrongful incarceration, to the unjust justice system that saw another rapper, Meek Mill, on probation for more than 10 years, with a judge presiding over his case that seemed to have a vendetta against him. He has also supported the Black Lives Matter movement, highlighted the problem with cash bail and paid bail for protestors jailed during some demonstrations.

The NFL is an entertainment league and Jay-Z is one of the biggest entertainers in music history. His status as a billionaire from making hip-hop music almost ensures that the NFL has left the entertainment arm of its business in great hands. But what of the Inspire Change initiative? The penalty for being an outspoken athlete when you consider the amount of money athletes get paid today can be harsh and expensive. Colin Kaepernick was made an example. But, can these men who play football on Sundays still have a meaningful impact on the community Monday through Saturday? Jay-Z seems to think it's possible.

"For me, this is action," he said. "We help millions of millions of people or we get stuck on Colin not having a job."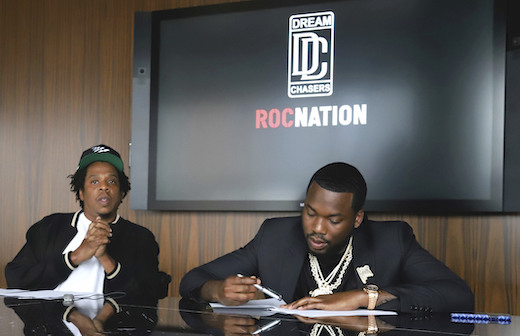 Jay-Z, left, and Meek Mill make an announcement of the launch of Dream Chasers record label in joint venture with Roc Nation, at the Roc Nation headquarters on, July 23, in New York. Photo: Greg Allen/Invision/AP



And while Roger Goodell said that any of the NFL's 32 teams is free to sign Mr. Kaepernick if they want to, the reality is with him being the face of all the league's PR troubles the last three years, and by taking the settlement, which all 32 teams paid into, his days of playing in the NFL were over as soon as the ink dried on that deal. Now, for the NFL, it's back to business. And that business is entertaining people in more ways than one.

"I think what the players want is to focus on the world, the community and the problems we are addressing," Mr. Goodell said. "They did the protest to bring attention to them. Now they want to get to the hard work … I want them to take what they are talking about and what they are protesting about and go make change in the communities. That's what they want. That's what they were doing. Let's move forward and work to progress and let's do things together. If we need to shine a light on something, let's do it together. That has been very effective for us."

Malcolm Jenkins, who plays safety for the Philadelphia Eagles, felt the entry of Jay-Z into the conversation could be a good thing. He has been involved in the discussion of police brutality and racial justice, even participating in a 2017 congressional hearing. "I think having somebody like Jay-Z who can add to that conversation, he does these things on a daily basis. He has a history of doing these things, helps us as players to have an ally like that. We're looking forward to seeing what they turns into," he said in a video clip posted to Twitter on Aug. 19.

Still, one could argue the NFL has been effective at blunting and redirecting energy away from its major problem of race, power and perception to questions against the man the league called upon to help solve the problem.