Ferguson five years later Still painful, still healing, still in the struggle



By Richard B. Muhammad Editor @RMfinalcall


FERGUSON, Mo.—The little town that was the catalyst for a national movement against police brutality and the epicenter of demands for the end to the killings of Blacks by police has seen some change, some progress, some political advances and some stubborn problems.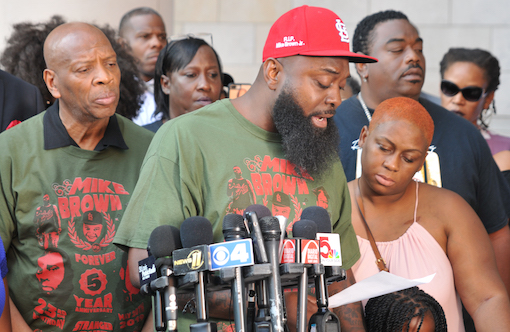 Michael Brown Sr., with his wife, Cal Brown, addresses media. Photos: Cartan X


Five years ago, the police killing of Michael Brown, Jr., brought thousands of activists, civil rights leaders, protestors and ordinary people to this suburb of St. Louis where an urban uprising erupted, and police officers looked like storm troopers in a foreign combat zone.

The police department was majority White, and Whites controlled political power over the majority Black population in a town of about 22,000 people. Today there is a Black police chief and four of six city council members are Black. The St. Louis county prosecutor, Wesley Bell, is a Black man and former Ferguson city council member.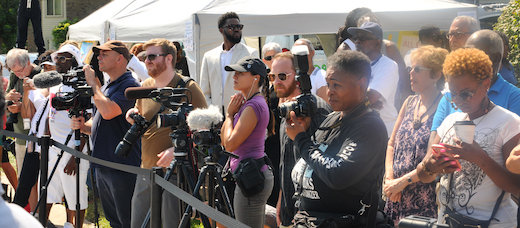 Media outlets in Ferguson, Mo., five years after the fatal shooting of Mike Brown by White police officer Darren Wilson.


Fran Griffin was a concerned mom and resident who took to the streets after the Brown killing and police response in 2014. She now represents Ferguson's Third Ward. She has focused on police policies like use of force and the right of officers to search people, changing those policies and increasing police accountability.

She backs reopening of the case of the killing of Mike Brown, which she called a catalyst for change in the city and country. "Not only did they treat Mike Brown, Jr., inhumanely, but they treated a whole community of Black people inhumanely. It's up to us to stand with the family in support of reopening this case so that they can finally get some justice for their son," she said.

"The police decided to attack a community of people who were mourning the death of the loss of a child, one of our children. That did something to me," she continued. Along with the pain, she felt there would be a chance for residents to impact what was happening in Ferguson. She got involved. She looked at police policies and how they gave police the legal right to manhandle residents.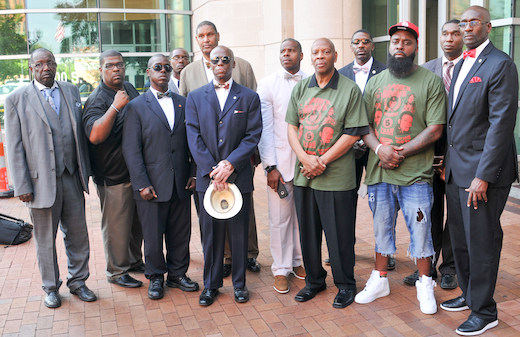 Activists and men of the Nation of Islam, stand in unity with Mike Brown, Sr. Photos: Cartan X


Changes to these policies and greater police accountability is underway, but it's a constant push, Ms. Griffin said. The police department remains under a federal consent decree that includes a monitors' team and a federal judge overseeing police department reforms, said Ms. Griffin. "But it's up to the people in the community to push it as far as we can to make sure our voices are heard," she added.

Black drivers are still stopped more often than Whites, which was once a major moneymaker for Ferguson through traffic tickets, fines and arrest warrants. State law now limits use of these tools.

"In Ferguson, the disparity in traffic stops of black drivers has increased by five percentage points since 2013, while it has dropped by 11 percentage points for white drivers," the New York Times noted.

Jason Armstrong became Ferguson's second Black police chief in July and Black cops have increased from four to 21 officers.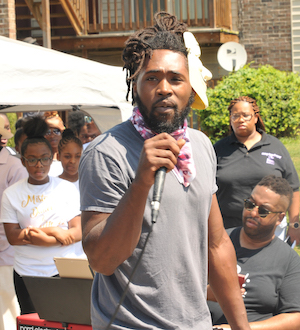 Members of the Ferguson community spoke during a memorial program Aug. 9 in Ferguson, Mo., the fifth anniversary of Michael Brown's death. Photo: Cartan X


Mayor James Knowles III is one of the few holdovers from the heated days of nightly demonstrations, stand-offs with police and stifling racial tension. Some racial tension remains.

Not every problem has been solved but some people have put in a lot of hard work over the five years, said Ms. Griffin.

The Third Ward is a predominantly Black community with the lowest income of the city's wards and the most apartment complexes but there was a longtime plan to move Blacks out of the area for new development, she said. This plan is being revised and now residents, again, must stay involved to press for racial equity that the plan is supposed to include, Ms. Griffin explained. She sits on the city planning commission to make sure she knows, and residents know what is happening.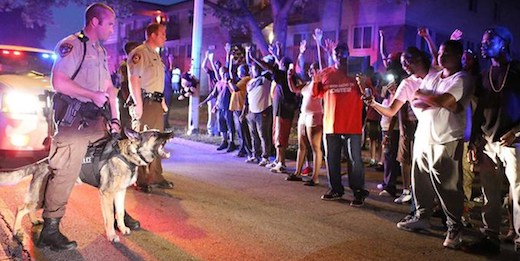 Residents are still angered by the heavy-handed police response, with attack dogs and military weaponry to initially peaceful protests in Ferguson. Resources for youth, along with a lack of Black civil representation are still problems today, five years after the killing of Michael Brown, activists say. Photo: MGN Online




A planned health center and Boys and Girls Club are welcome, but healing should be holistic, not just a moneymaker for insurance companies and 18- to 24-year-olds must not fall through the gaps, she added. "This development is going to take place and will guide the city of Ferguson for the next 20 years," Ms. Griffin observed.

"Who would have believed that out of a community like this and out of a tragedy would come a whole movement that sprung out all across this country in terms of not only issues of police accountability, police restructuring; but also in some ways there's a whole movement around reparatory justice associated with this, too," commented Dr. Ron Daniels, president of the Institute for the Black World 21st Century.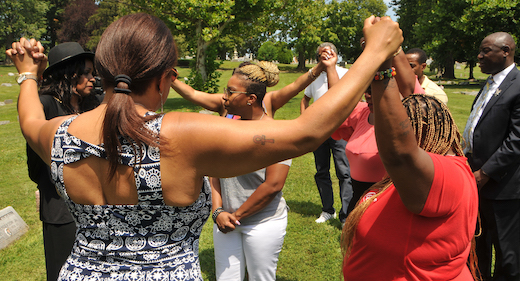 "I think that we've made progress in the sense that there's been people who've been elected to office, people got activated, they elected some prosecutors, you know, and all of that's good. But at the end of the day, we still have a lot more work to do," said Dr. Daniels, who is based in New Jersey. He was in Ferguson Aug. 9 for a reparations conference and stopped by for a commemoration of the fifth-year anniversary of the killing of Mike Brown, Jr., in the place where the teenager lost his life.

"All this is sacred ground," said Dr. Daniels.

The problems of policing and lack of opportunity in Ferguson are linked to longstanding issues of segregation and racism. White flight, lack of jobs and lack of public transportation are linked to Black progress or the lack thereof.

Last summer, "Segregation in St. Louis Dismantling the Divide" laid out how entrenched challenges in Ferguson and elsewhere in the region are tied to specific policies to deny Blacks access to equal housing and services and protect White enclaves.

The tactics ranged from denying Blacks homeownership opportunities and not building affordable housing to destroying or taking over once thriving Black communities or neighborhoods.

"Developers of whites-only subdivisions were vastly favored for construction loans to build single family, large-lot homes," the report noted in an explanation of historic housing policy.

"After Michael Brown was killed by a police officer in Ferguson in 2014, the relatively recent history of white and middle-class flight in North St. Louis County received national attention. Ferguson's demographics were reflective of the hypersegregation and disinvestment affecting a large segment of its African American population. Though Ferguson appeared diverse at first glance, in reality the majority of African Americans lived in poor and segregated neighborhoods within Ferguson. Rothstein in 'The Making of Ferguson' observed that Ferguson had 'ghetto conditions we had come to associate with inner cities now duplicated in a formerly white suburban community.'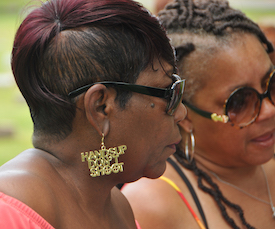 Earring says, "Hands up don't shoot".




"Those conditions included high-poverty segregated neighborhoods, lower performing schools, abandoned homes, and a sense of community powerlessness," it said.

"North St. Louis County residents often find themselves in isolated neighborhoods with less access to social services and support agencies, poor transportation options, and declining schools and tax bases. Studies indicate that the St. Louis region remains among the 10 most segregated in the country," the report said.

"With the reaction to the fatal shooting of Michael Brown in Ferguson followed three years later by the exoneration of a City of St. Louis police officer in the shooting death of Anthony Lamar Smith, St. Louis has become a place now roiled by intermittent conflict and protest. Issues of inequity and segregation underlie much of the discontent. Pockets of integrated neighborhoods exist, but systems and policies have not been put into place to preserve their diversity and keep them from transitioning to disinvested, newly segregated communities," it warned.

Still there is the ongoing battle to bring equity and justice to Ferguson through the work of groups like the Urban League's Ferguson Empowerment Center, built on the place where a convenience store was burned to the ground in the early aftermath of Mike Brown, Jr.'s death and police teargassing of street protestors.

It offers trainings, job fairs and a special program which aims to help mentor Black males. It also housed an exhibit devoted to Mike Brown, Jr., during the weekend commemoration of his death and a food giveaway. Nearby is an almost ready Boys and Girls Club of Greater St. Louis, priced at about $12.4 million and including 26,000-square-feeet of space for youngsters. Plans also call for a primary care facility and women's clinic.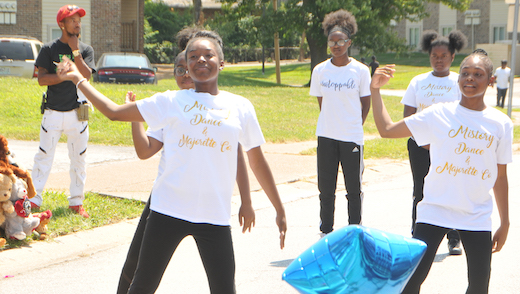 Girls perform during remembrance of Michael Brown, Jr.


There are other smaller programs for youth that have sprang up, including the work of a foundation run by Michael Brown, Sr., and programs run Lesley McSpadden in honor of her son.

There are also Black businesses, entrepreneurs and homeowners who also live in Ferguson, so the outlook is not all bleak.

But warns, Ms. Griffin, vigilance is necessary. Prior to her election in April and defeating Mike Brown, Jr.'s mom for the council seat, the city chose Jeffrey Blume as interim city manager. The Justice Dept. named Mr. Blume, who formerly served as Ferguson finance director, as pushing for more traffic fines to bring in more revenue, she said.

Blacks are 67 percent of the city population, yet from 2012-2014, represented 85 percent of vehicle stops, 90 percent of the citations, and 93 percent of the arrests, according to the Justice Dept.

Trumped up charges for code enforcement generated fines and fees for Ferguson's budget that reached $1.38 million of the $11.07 million collected in general funds in 2010, said the Justice Dept. Budget forecasts continued to exceed expectations year after year. In 2012, city officials "predicted" that fines and fees revenue would increase 30 percent to $1.92 million, however Ferguson courts exceeded the "prediction" and collected $2.11 million. Predictions were exceeded again in 2013 by courts, which essentially are under the control of the Ferguson police chief, collecting $2.46 million in fines and fees.

In 2014, the city issued nearly 12,000 tickets, but the citations fell to less than 2,000 and brought in less than $400,000 in 2017.

Tory Russell leads the International Black Freedom Alliance. Five years ago, he was a Ferguson frontline protestor but today he sees the need for a mass grassroots movement.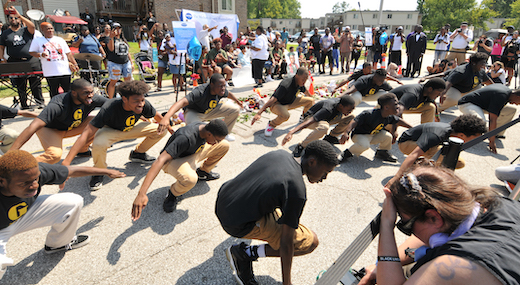 Young men perform step routine during tribute to Michael Brown, Jr.




Among lessons he has learned is the need for an intergenerational movement with input from elders. We tried to push the elders out and say we got this, but we didn't have it, said the 35-year-old organizer.

He believes old-fashioned door knocking, street organizing and people to people contact is needed. "We have to have a grassroots agenda brought to you by the people that's actually in the grassroots. I think social media activism was cool. I think the hashtags look cute, but them hashtags don't protect bodies and they damn sure don't build homes and communities," he added.

There was also not enough protection of protestors who have been killed and a couple have gone to jail, Mr. Russell continued. We need to build a movement where we protect one another, he said.

His group met over the Aug. 9 weekend to plan and discuss community building, reparations, separation, repatriation. "Now it's time to have some of that building," the activist said.

Yo Nas Da Lonewolf, who returned for the fifth anniversary commemoration, has been working with the Brown family since 2014. She was also among protestors five years ago. "Still no justice," she said. "Officer Darren Wilson is still living his life, but not only Officer Darren Wilson, so many police have been murdering activists and putting it under the rug and acting like it's a suicide. It's been seven to ten activists who have been murdered," she said.

Among those who have lost their lives in connection with Ferguson are Edward Crawford, who the world remembers for a powerful image of him wearing an American flag tee shirt, holding a bag of chips in one hand, and throwing a tear gas canister away from women and children as heavily-armed law enforcement officers engaged in a standoff with protestors. Authorities said he shot himself in the head while riding with two other people. Darren Seals, 29, was found with his Jeep Wrangler engulfed in flames in Riverview, Mo., a suburb north of St. Louis. He died from a gunshot wound to his head, according to authorities. MarShawn McCarrel's death was called a suicide. Deandre Joshua, 20, was found shot in the head and burned inside his car just east of the Canfield Apartments. Some thought he testified before the Brown grand jury, but family members told the media he did not. He was about 75 yards away from where Mike Brown, Jr., was killed.

Danye Dion Jones, 24, was found hung in the backyard of his mother's home in the north county community of Spanish Lake, Missouri, just five miles away from Ferguson. The St. Louis County Police Department is investigating the death as a suicide, but Melissa McKinnies, Mr. Jones' mother, and a Ferguson protestor expressed doubt about the so-called suicide. She said her son was lynched. She was also lacked confidence in police handling of the death and subsequent investigation. Known for livestreaming protests, Bassem Masri, 31, was Palestinian American and reportedly died from an overdose of fentanyl. He was found on a bus.

Ms. Lonewolf called Mr. Seals a good friend and "beautiful brother." "There is still a problem in Ferguson," said the activist. "We need to act like Jesus and start saying, "Get behind me,' as we keep moving as we separate because that's the only way we're going to be able to stop this epidemic and this massacre of original people all over the world."