Acrimony, Animosity and Growing Anger: Impeachment, PICKING SIDES AND DIVIDING AMERICA



By Askia Muhammad Senior Editor @askiaphotojourn

WASHINGTON—The House Judiciary Committee voted to approve articles of impeachment against President Donald Trump after a bitter committee debate that stretched over three days.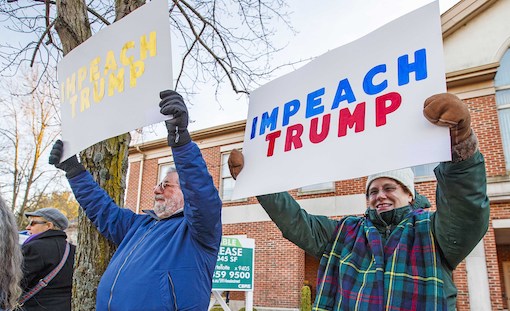 The committee action Dec. 13 set up a historic vote to impeach the president on the House floor at Final Call press time that would make Mr. Trump the third president in American history to be impeached by Congress.
The Judiciary Committee approved the impeachment articles of abuse of power and obstruction of Congress on two party-line votes that underscored the partisan tensions running throughout the impeachment proceedings.

Democrats say that Mr. Trump should be removed from office for abusing his authority by pressuring Ukraine to investigate his political rivals in exchange for U.S. security aid and a White House meeting. Then, Democrats insist, he obstructed the investigation into his misconduct.

"In all of this, President Trump abused the powers of the presidency by ignoring and injuring national security and other vital national interests to obtain an improper personal political benefit," according to the first article. "He has also betrayed the nation by abusing his office to enlist a foreign power in corrupting democratic elections." The second article charged him with obstructing the impeachment inquiry by blocking witnesses and documents that House Democrats requested.

House Democrats decided not to charge Mr. Trump with "bribery" or "extortion," as they had contemplated. Those are criminal charges, meaning they would have invited complicated debate about judicial precedents, but an impeachable offense does not have to be a specific crime, according to constitutional scholars, so the Democrats decided to use the more comprehensive accusation of "abuse of power."

"In the history of the republic, no president has ever ordered the complete defiance of an impeachment inquiry or sought to obstruct and impede so comprehensively the ability of the House to investigate 'high crimes and misdemeanors,' " the obstruction article says.

However, as hard as the Democrats are pressing the issue, there is not complete unity in their caucus.

There are Democrats in heavy Trump congressional districts that are still on the fence.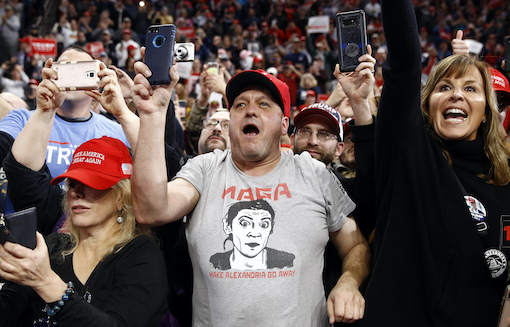 At presstime The Wall Street Journal reported at least 17 from the 31 Democratic-held districts that Mr. Trump won in the 2016 presidential race had announced they would support the abuse-of-power and obstruction of Congress charges, according to a survey conducted by the paper, with two saying they are opposed. These moderate Democrats are feeling the pressure as lines have been drawn in the sand by members of both parties.

Rep. Collin Peterson of Minnesota said he is voting against impeachment and Rep. Jeff Van Drew of New Jersey recently announced he was switching parties over his decision to break with Democrats. Rep. Van Drew's announcement he will now be a Republican caused members of his staff to resign. Rep. Justin Amash of Michigan left the Republican Party and became an Independent earlier this year over his differences with Mr. Trump and the direction of the GOP. Rep. Amash now caucuses with the Democrats and has indicated he will vote to impeach the president.

The latest CNN polls reflect as much division in the American public as there is among political leadership in Washington when it comes to impeachment. CNN reported on Dec. 16 that support for impeaching President Trump and removing him from office was at 45 percent in favor with 47 percent opposing. The percentage of those in favor decreased from 50 percent in October and November.

According to the New York Times, as of Dec. 16 evening, 192 Democrats in the House support impeachment, two opposed, 11 were undecided or unclear and 28 had not responded. The paper reported that no Republicans support impeachment, one was undecided or unclear and 31 had not responded.

Rather than defending his conduct however, Republicans supported the president by attacking the impeachment process itself, and by maligning dozens of witnesses—administration appointees and career civil servants—who testified about Mr. Trump's behavior in a telephone call on July 25 with the president of Ukraine.

One GOP amendment offered to "strike Article I, because Article I ignores the truth." Hours later, another Republican Judiciary Committee member called for eliminating the obstruction of Congress article, saying that Mr. Trump has in fact cooperated with the inquiry and that Democrats have not been fair to him.

But Democrats argue that the political calendar makes their effort even more urgent, in light of the charges against the president. They say he has engaged in a troubling pattern of behavior that began when Mr. Trump welcomed Russia's help in the 2016 election and would continue into the 2020 election if they don't stop it.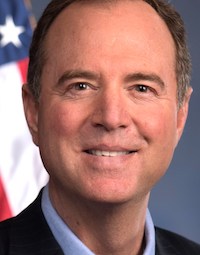 "The argument 'why don't you just wait' amounts to this: 'Why don't you just let him cheat in one more election?' " said Rep. Adam Schiff (D-Calif.), chair of the Intelligence Committee who oversaw the House's Ukraine investigation, at a news conference. "Why not let him have foreign help just one more time?"

Despite his boasts to the contrary, some of his advisers say Mr. Trump really does not want to be impeached, viewing it as a personal humiliation. Even in private, he accepts no blame and expresses no regret, they say.

"It's a witch-hunt. It's a sham. It's a hoax," Mr. Trump said in the Oval Office during a meeting with the president of Paraguay. "Nothing was done wrong. Zero was done wrong. It's a scam. It's something that shouldn't be allowed. And it's a very bad thing for our country, and you're trivializing impeachment."

Polls before Dec. 16 showed public support for impeachment and removal from office has remained at 50 percent in favor and 41 percent opposed, and prominent newspapers around the country—the Washington Post, Los Angeles Times, Boston Globe, Orlando Sentinel, Philadelphia Inquirer, and USA Today—have already editorialized in favor of impeachment. But Senate Republican leaders have promised Mr. Trump will not be removed from office after his trial before that body, where the GOP controls the majority. A two-thirds vote is required to remove the president from office.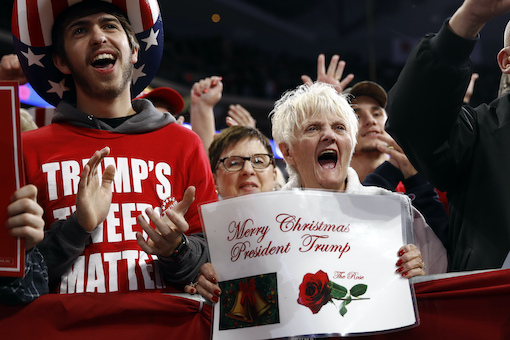 There is "no chance" that 67 senators would vote to remove Mr. Trump from office, Senate Majority Leader Mitch McConnell (R-Tenn.) said in an interview with Fox News Dec. 12. "Everything I do during this, I'm coordinating with White House counsel," he said, adding that he would be in "total coordination" with the White House.

"There'll be no difference between the president's position and our position as to how to handle this," he said. Similarly, Sen. Lindsey Graham, (R-S.C.), chair of the Senate Judiciary Committee called the impeachment effort "a crock."

"I want to end it," Mr. Graham said on CBS's "Face the Nation" Dec. 15, adding: "I have nothing but disdain for this."

Democrats condemned Senators McConnell and Graham for openly stating they're "not trying to pretend to be a fair juror here," said House Judiciary Committee Chair Jerrold Nadler (D-N.Y.). "They have to pledge to do impartial justice," Mr. Nadler told ABC-TV's "This Week" host George Stephanopoulos Dec. 15. "And here you have the majority of the Senate, in effect the foreman of the jury, saying he's going to work hand in glove with the defense attorney.

"And that's in violation of the oath that they're about to take, and it's a complete subversion of the constitutional scheme," Mr. Nadler continued.

Despite the dim prospects of conviction of Mr. Trump in the Senate, some good may still come out of the process, according to Dr. Gerald Horne, professor of History and African Studies at the University of Houston. "It's possible. I think that the thinking of the Democratic leadership is that Mr. Trump will not be deterred and that it's very important to suggest to him that there might be a penalty to pay," Dr. Horne told this writer in an interview.

"And so even though it now appears that Mr. Trump will not be removed by the Senate, I think that the thinking is that there must be obstacles strewn in his path, perhaps to slow him down in terms of getting other nations to interfere in the November, 2020 elections," Dr. Horne continued. Their aim, he said, is clear.

"I think that the Republican office holders are listening to the Republican base—63 million strong (who voted for Mr. Trump and who remain fiercely loyal to him)—and the base feels that this is a marvelous opportunity to turn back the clock, to restore the patriarchy, to erode affirmative action, to further erode the voting rights act of 1965. They see Trump as 'their vehicle' as outgoing energy secretary Rick Perry put it. He is the chosen one selected by God, as they put it, to effectuate these demonic deeds.

"I think that the communities most impacted by Trumpism really need to go through an agonizing reappraisal," said Dr. Horne concerning a strategy for dealing with his possible reelection in 2020.

"I'm speaking of the Black community in the first place and I think that it would do well for the Black community to try to reinvigorate some of its international connections. That is the way historically we've been able to erode the right-wing dominance that tends to prevail in the United States of America.

"That obvious point somehow has been lost in recent decades, which I think is one of the many reasons we find ourselves in such a deep hole," said Dr. Horne.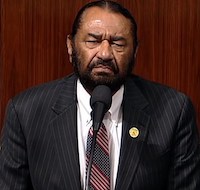 Regardless of the impeachment outcome, pressure will remain on this presidency, according to Rep. Al Green (D-Texas), one of the first to call for Mr. Trump's removal from office, soon after Democrats won the House majority in the 2018 elections.

"If the Senate does not convict, that does not mean that it's over," Rep. Green told Yahoo News shortly after the articles were unveiled. "It simply means that for these two charges the president has not been convicted and he is still in office, which means that he is still subject to impeachment for other charges," he said.

Those potential additional impeachable charges include the obstruction of justice allegations outlined in the report following the two-year-long investigation of improper conduct by Special Counsel Robert Mueller.

Battle lines drawn and increased acrimony

Mr. Trump not only has staunch, unwavering support of his Republican Party in the House and Senate, but his tens of millions of supporters are firmly in his corner. During the Dec. 9 opening of the impeachment hearings a pro-Trump protestor was dragged out of the hearing room after he shouted "treason" at Democrats.

"Jerry Nadler and the Democratic Party are committing treason against this country," he yelled before he was escorted out of the chamber by Capitol Police Officers. "America's done with this! America's sick of the treason committed by the Democratic Party. We voted for Donald Trump, and they're simply removing him because they don't like him," shouted the man later identified as Owen Shroyer, a host on the InfoWars website, reported The Independent Journal Review, a conservative news and opinion website.

Angry Pro-Trump, anti-impeachment protestors disrupted Rep. Schiff at a recent Armenian Genocide Recognition event held in a Los Angeles suburb. He was heckled and booed as he spoke with some folks holding signs that read, "Don't Impeach." Police eventually cleared the venue after fights erupted between pro-Trump protestors and others.

Politico reported that conservative groups are ramping up attack ads aimed at Democrats in Trump districts dubbed by one group the "Dirty 30." The plan is to blanket the 31 districts with "millions of dollars' worth of TV spots, Facebook ads, texts and tweets blaring that the 'radical left' is trying to remove the president after a 'witch hunt'— and that their Democratic representative is complicit," reported Politico.com. Their goal is to try and win back the seats, flipping them back into Republican hands.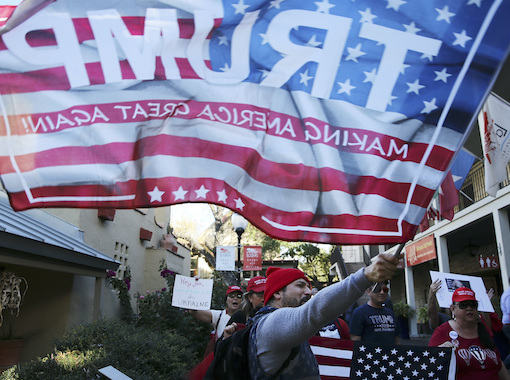 The acrimony and bitterness has been displayed by pro-and anti-Trumpers. An Indianapolis news site reported a schoolteacher allegedly ripped a Trump button off of a student. "At Mason High School in Michigan, a 16-year-old female student, Sadie Earegood, went to school wearing a 'Women for Trump' button. Paul Kato, a media technology teacher at the school, saw the pin and ripped it off her shirt," wrote Tony Katz in the article titled "Trump-Hating Teacher Rips Pro-Trump Button Off 16-Year-Old Female Student" posted on the website of 93.1FM WIBC. According to the site, the school is still investigating the allegations.

Violence, angry demonstrations, shouting matches and discord since the election of Mr. Trump have amplified in wake of the impeachment hearings and both sides do not appear to be backing down anytime soon.

Clashes erupted in Seattle in which that city's police are investigating viral videos showing cops allegedly ramming their bicycles into anti-Trump protestors officers then wrestling them to the ground at a MAGA (Make America Great Again) march held Dec. 7. There have been clashes between opposing sides in that city, according to media reports.

Anger is also continuing to be displayed over social media. "The media lied in unison with Schiff, Comey and the rest. Same as they are doing with impeachment #EnemyOfThePeople Don't forget that. And don't forget what they did to Nunes, the only person that was telling the truth," said a tweet by @steph93065 that was retweeted by Mr. Trump.

"Impeachment will be bipartisan ....bipartisan AGAINST it. Hahahahaha Democrats wasted all their political capital on a witch hunt, they can't even get 100% of their own party on board with this sham. GO TRUMP!!," said @Rockprincess818.

Trump supporters outside of his Dec. 10 rally in Hershey, Pennsylvania told CBS News that the president's impeachment could lead to violence, anger and "the second civil war."

"There'll be a lot of mad Americans. Possibly, 70, 80 thousand—70, 80 million Americans on the loose, not very happy," said one man. "What we're seeing is a divided country. Both sides are dug in, no one's budging," he added.

(Final Call staff contributed to this report.)