Farewell to an angel - Aretha Franklin
By Richard B. Muhammad and Brian Muhammad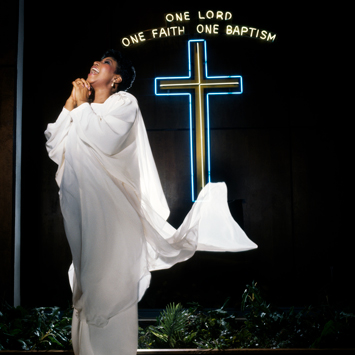 Aretha Franklin memorial service celebrates culture, commitments of a great, global icon
DETROIT—The Queen of Soul started her life and career in church and she was given a homegoing service in church—and what a service it was.
Thousands turned out for the funeral which capped several days of activities in honor of Aretha Lorraine Franklin. The funeral was held at Greater Grace Temple.
The church sanctuary was a mix of the high and the mighty and the meek and humble. Special invites went to the likes of former President Bill Clinton, Rev. Al Sharpton, Rev. Jesse Jackson, Rev. William Barber, politicians from the city to state to federal levels, movie and television producer Tyler Perry, religious leaders like Rev. T.D. Jakes and even Omarosa Manigault Newman, the former Trump administration aide, was in the sacred space.
The ordinary people of Detroit she loved were in the church as well. The family extended an invite to 1,000 people to attend the service—and set up monitors outside. The service was carried live on several television networks and received substantial coverage on others. Many stood in line overnight to enter the church, which holds about 6,000 people.
The Honorable Minister Louis Farrakhan of the Nation of Islam was among the dignitaries. He sat on the main stage with President Clinton, Rev. Jackson and Rev. Sharpton.

(l-r) Shirley Caesar, Jennifer Hudson, Dr. Michael Eric Dyson, Cicely Tyson

(l-r) Ronald Isley, Chaka Khan, Judge Greg Mathis, Yolanda Adams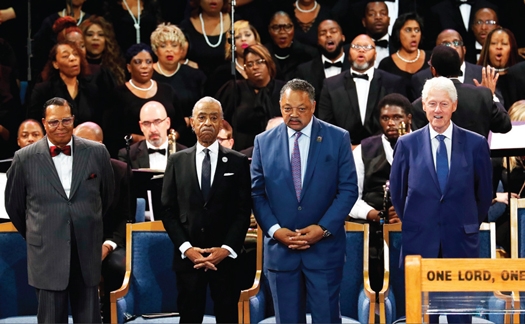 (l-r) Min. Louis Farrakhan, Rev. Al Sharpton, Rev. Jesse Jackson, former U.S. President Bill Clinton.
Min. Farrakhan donated 90,000 free copies of The Final Call newspaper to the city and people of Detroit. It was a special reprint of Final Call coverage on the life and legacy of Aretha Franklin published immediately after her death.
In a statement published in the newspaper's centerfold
, Min. Farrakhan said, "Her songs, her soul and her voice did not only reach our ears, but reached our hearts, our souls, and our spirits to lift us above where we were and caused us to survive the horror, the tyranny of our painful existence as ex-slaves, free slaves, Jim Crow sufferers, our souls yearned for relief. She supplied that balm to our pain.
"In 1972, when I was minister in New York City, Temple No. 7, the police attacked our mosque. Within a few hours, Aretha Franklin came to the mosque, to my office, and said that she saw the news and came as quickly as she could to stand with us and offer us her support. … We marveled at her show of courage, fearlessness which was rooted in her profound love for her people and her desire for justice for us."
Bishop Charles Ellis III of Greater Grace Temple officiated the Aug. 31 service, blending scripture readings, musical performances, tributes and mini-sermons as well as messages from close friends, like Smokey Robinson, and her grandchildren.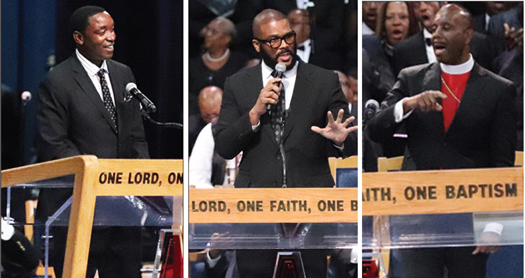 (l-r) Isaiah Thomas, Tyler Perry, Pastor Charles Ellis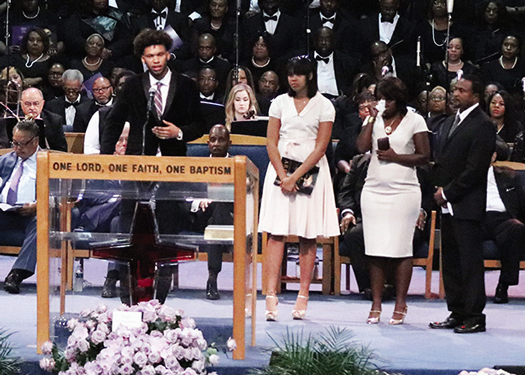 Grandson of Aretha Franklin speaks at her Aug. 31 funeral as other relatives look on.
Black Twitter, Black radio and Black text messages and conversations noted the Minister was seated on the dais but did not speak. At one point there were 43 pages of comments on the subject taken from the @louisfarrakhan Twitter page.
There was a lot of anger with one caller telling a Detroit area talk show host, the governor of Michigan should have been cut from the program. Detroit pastor Jim Holley, who made remarks, told The Final Call that he would have gladly relinquished his time to have the Minister speak.
But in a Sept. 3 interview with The Final Call, Min. Farrakhan said when his office reached out to Earline Franklin, Aretha Franklin's sister in law, he only requested to be present at the funeral and did not ask to speak. "I just wanted to be present with the family as one of the mourners. And even though I was invited to speak at the tribute concert, I told them I really didn't come to do that. Though I was offered the chance to speak I never availed myself of that opportunity," he said. Six-thousand tickets to the concert Aug. 30 in downtown Chene Park were distributed. He was escorted to a private room where Franklin family members and celebrities welcomed him.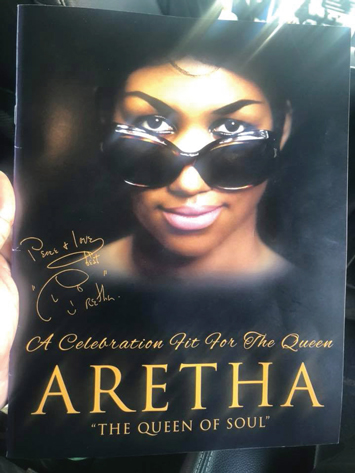 The Minister thought he would be seated behind the family or friends at the funeral. He was seated on the dais. Many pastors, celebrities and well-wishers came to greet and take photos with Min. Farrakhan before and after the funeral. (See editorial pages 16, 17.) Rev. Barber and Rev. Michael Eric Dyson were the only speakers to mention the Minister by name. With his statement in each Final Call newspaper, the Minister said he did not feel the need to speak. He had already shared his sentiments and expressed his love for Ms. Franklin.
While Black Twitter and radio stations exploded with questions about why Min. Farrakhan did not speak, Whites and Jewish leaders, like Atty. Alan Dershowitz, condemned the Minister's appearance. And, they demanded that Mr. Clinton explain his presence on the same stage as the Minister.
The Final Call blasted "Jewish hatred" and "hate speech" spewed against the Minister. "How dare you," declared an editorial. "How dare you presume and demand an explanation after all you have done to us and all we have suffered and still suffer at your hands. Even the White politicians who spoke were connected with policies that ill-affected and still ill-affect the lives of Black people. Yet they were given a moment to honor a woman who helped Blacks survive in this hellish nation and who actually contributed to making America better.
"How dare you blame us, the victims of your evil and wicked planning and damnable actions against us, and then slander a man who has devoted 62 years of his life to freeing us from your grip. Your lies and delusions are so deep, White America and powerful Jewish forces, that you spew misinformation, twist truth and would bludgeon into submission anyone who would come near a good man and a movement, the Nation of Islam, devoted to the salvation of Black people. … You are the oppressors and you are the ones that we should be ashamed to be associated with. Your entire history in is written in the blood of the darker peoples of the earth," said the editorial. (See coverage, photos on pages 16 and 17.)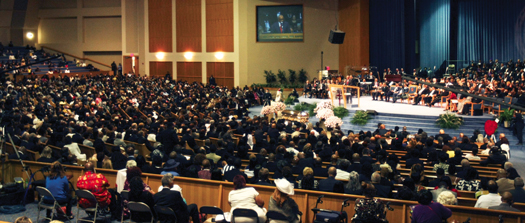 Greater Grace Temple in Detroit was filled to capacity with dignitaries, entertainers and guests for the homegoing service for Aretha Franklin. The life and legacy of the iconic singer was celebrated during a nine-hour service that featured gospel songs, testimonies and reflections of her life. Ms. Franklin died Aug. 16 and the city of Detroit honored her memory with various public events. Photos: Andrea Muhammad

Honoring Detroit's favorite diva and a world class artist
Ms. Franklin's musical accomplishments were acknowledged, but the gratitude was not just for Grammys and other honors but for a voice and spirit that touched hearts. "Her voice brought peace," observed her granddaughter.
Over her 50-year career, Ms. Franklin came to be regarded as the greatest singer of any style or genre.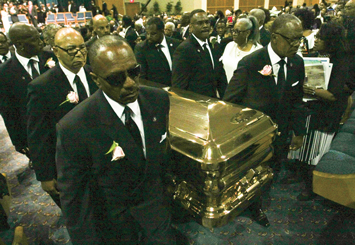 Pallbearers carry casket of Ms. Franklin after conclusion of Aug. 31 service.
She was awarded the Presidential Medal of Freedom to go with 20 No. 1 R&B hits, 18 Grammys and more than 100 singles on the Billboard charts. In 1987, she became the first woman inducted into the Rock and Roll Hall of Fame. She was one of the few people known globally by a single name, "Aretha." In her beloved city of Detroit, she was often called "Re Re" and seen as a member of the family. At age 76, she died Aug. 16 of pancreatic cancer in her home.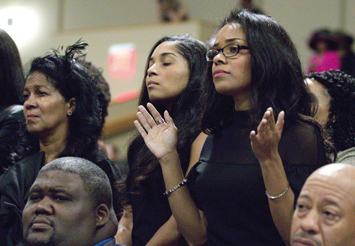 Thousands of mourners paid homage to Ms. Franklin at Greater Grace Temple.
Her departure was stylish and substantive—from the gold casket to the changes of clothing during the week's public visitations. Her arrangements were handled by Swanson Funeral Home, who transported her body in a vintage 1940's hearse. It was the same hearse that carried her father to his final resting place. She was accompanied by a police escort and a fleet of pink Cadillacs to a Detroit cemetery, another tribute to lyrics from a hit song. Detroiters lined streets to say a final farewell to the Queen.
Testimony to the sheer beauty of her Blackness and connections with her struggling people dominated the service.
And, even in departing this life, Ms. Franklin was pushing the struggle forward. Several speakers called for reconvening the leaders and luminaries assembled to deal with political, social and survival issues Black America faces.
The near nine-hour service was a culmination of formal events that began with Ms. Franklin lying in repose at the Charles H. Wright African-American Museum. Thousands trekked through the museum for two days for the public viewing. Another viewing was held at New Bethel Baptist Church where Ms. Franklin grew up and where her father, reverend and civil rights leader C.L. Franklin, served as pastor.

A proud celebration of Blackness
From Fantasia taking off her shoes on stage before singing to energetic, upbeat gospel songs, praise breaks and anecdotes, it was an international event proudly steeped in, rooted in, bathed in the Black cultural experience.
"She sang in our key and taught the world to hear it," said Rev. William Barber, whose activism in North Carolina and demands for justice for Blacks, poor and oppressed people, have thrust him into a national spotlight.
No matter when she sang or where she sang, her music provided a divine message and America's current moral crisis needs the gospel of Aretha, Rev. Barber declared. Her singing made you want to stand up and fight back against narcissistic leaders and declare we will not accept anything less than respect, he added. "Aretha told us respect was non-negotiable," Rev. Barber continued. He also called for a meeting of leaders and movers and shakers present to discuss 2018 midterm elections and political strategy.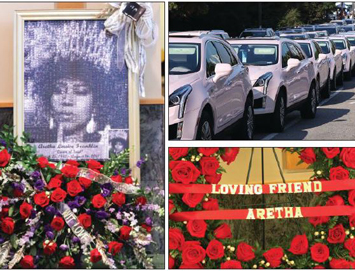 Floral arrangements surrounded Ms. Franklin's casket at the museum viewing and funeral service. Lines of pink Cadillac's was a fitting tribute to the Queen of Soul and her hit song, "Freeway of Love." Photos: Andrea Muhammad
"She remained herself all her life," observed Rev. Michael Eric Dyson, another son of Detroit and Black intellectual. "She is now the queen of our souls. Long live the queen!"
Aretha refused to sell out; some people sending letters because they don't want to be here in all this Blackness, declared the author and academic. But, he advised, you need to come, dip your toe in and bathe in it. Like other speakers his words brought applause from the crowd as leaders, activists, celebrities and ordinary Black people were exhorted to continue the struggle.
When Rep. Maxine Waters (D-Calif.) was acknowledged from the stage there was applause. She stood, crossing both arms across her chest in the "Wakanda Forever!" salute that became a sign of Black pride through the record and stereotype breaking movie "Black Panther."
Rev. Dyson's letter reference appeared aimed at former President Obama, who Ms. Franklin supported. She sang at his first inauguration. The first Black president wasn't at the spirited homegoing service for an extraordinary woman, freedom fighter and entertainment industry giant.
Judge Greg Mathis, another son of Detroit, shared his final conversation with the Queen. It was about the continued water crisis in Flint, Mich., where water was diverted from Lake Michigan to the polluted Flint River poisoning people. They have stopped giving bottled water to people but have not resolved the crisis and health hazard, he said. He and Ms. Franklin discussed the need to challenge the injustice. When he appeared a little hesitant, having jumped into the fray before, Ms. Franklin had a ready response. "You scared?" she said. "You supposed to be from Detroit!"
"Greg, I want you to go to Flint and sock it to 'em," she said, according to the former Detroit judge, who now resolves disputes on a popular television show. And, he said, Michigan's governor spoke here, but "I'm on my way to Flint."
Calls to continue the struggle
Judge Mathis met Ms. Franklin while working with the Rev. Jesse Jackson. She enjoyed a long and close relationship with the civil rights leader and his organizations.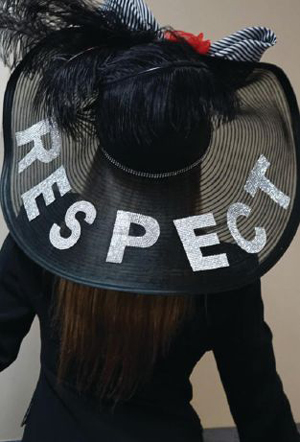 One of Ms. Franklin's signature hits was titled, "Respect." Photo: Monica Morgan
Rev. Jackson implored the crowd to be active voters in tribute to Ms. Franklin. When Dr. Martin Luther King, Jr. couldn't make payroll and was vilified and attacked, Aretha and Harry Belafonte went on an 11-city tour, he recalled. They raised and gave money to Dr. King without getting paid and in one venue, tear gas was pumped through the air ducts, he said.
In 1970, Jet Magazine reported that Ms. Franklin stood ready to post Angela Davis' bond whether $100,000 or $250,000, if allowed by the courts. Ms. Davis, then a 26-year-old former UCLA philosophy instructor and Black Panther Party leader, was being held in New York without bond pending extradition to San Rafael, Calif.
Civil rights advocate Sharpton called on Black America to teach President Trump the meaning of "Respect"—another homage to one of Ms. Franklin' greatest hits.
Ms. Franklin was a civil rights activist, feminist before feminism, and human rights advocate when none of it was popular, he said. He, like other pastors and common people, thanked Ms. Franklin for her personal generosity, financial support of cause-oriented Black groups and concern for the less fortunate. Most of her work was done without fanfare.
The memorial had a decidedly Detroit flavor, indicative of the city's great history, but mainstream leaders came to show respect. In addition to Republican Governor Rick Snyder, there was Sen. Debbie Stabenow (D-Mich.) and former President Bill Clinton, who said he and his wife, Hillary Rodham Clinton, "started out as Aretha junkies or something," long before he ascended to the White House.
"She lived with courage, not without fear, but overcoming her fears," said the president. "She lived with faith, not without failure but in overcoming her failures." She took this massive talent and "perfect culture that raised her and decided to be the composer of her own life's song," he said.
"She called me, the little Black girl from the east side of Detroit, and said she was proud of me," recalled former suburban mayor Brenda Lawrence, who now serves in the U.S. House of Representatives. Women have to be strong enough to embrace other women, she said. And she and Sen. Kamala Harris (D-Calif.) are seeking to have the Congressional Medal of Honor bestowed on the woman who inspired her. Detroit City Council President Brenda Jones and Mayor Mike Duggan announced support to rename a major street and downtown park and amphitheater after Aretha. Rev. Jasper Williams delivered a controversial eulogy.
"Her status as a queen, unlike others who inherit, was earned," said former United States Attorney General Eric Holder in remarks from the pulpit. "God sang through her."
Entertainment giants laud Aretha
Noted actress Cicely Tyson, writer and director Tyler Perry, talk show host Whoopi Goldberg, and music mogul Clive Davis listened. "God knows we have been blessed," said Ms. Tyson. "What a triumphant gift that you have given the world that they have been able to experience," she said to the Franklin family. "Aretha was the sum total of her life's experience, and she shared that with us through the soul songs she sung." The award-winning actress completed her remarks with a tribute to Aretha based on a poem by Black poet Paul Lawrence Dunbar.
"I signed her to Arista Records and five years turned into more than three decades," said Mr. Davis.
"My prayer for you is that God will allow you to grieve in waves and (it) not come crashing on you all at once like a tsunami," said Mr. Perry in remarks directed to the Franklin family. He recounted losing his mother and developing a friendship with Ms. Franklin. Journalist Roland S. Martin and the entire cast of Tyler Perry's "The Haves and the Have Nots," were present as it was Ms. Franklin's favorite show.
Ariana Grande graced the audience with Aretha's classic "Natural Woman" and "What a friend we have in Jesus" was sung by country singer Faith Hill. The Clarke Sisters, considered gospel music royalty, sang their mega hit "Is My Living in Vain." Bishop Marvin Sapp sang "Perfect Peace." Chaka Khan performed "Going up Yonder" to the delight of the crowd.
Vanessa Bell Armstrong, together with the Williams Brothers, sang Ms. Franklin's "Precious Memories." R & B singer Ron Isley, with tears in his eyes, talked about his friendship with Ms. Franklin that went back 60 years. He sang "His Eye is on the Sparrow." A touching tribute came as her second son, Eddie, sang "Mercy, Mercy Me" in honor of his mother.

This white hearse transported the gold casket of Ms. Franklin to her final resting place. Photo: Andrea Muhammad
Gladys Knight performed, backed up by the Aretha Franklin Concert Choir. Shirley Caesar, another gospel icon, encouraged the family, in song and words. "To be absent from this playhouse is to be in the presence of the Lord. All we can say is keep on, Aretha," said Ms. Caesar. "God will take care of you."
Rev. Joanne Watson, a former city councilwoman, said her longtime friend loved her city, her father, the civil rights movement, the women's movement, the reparations movement, and the human rights movement.
Ms. Franklin paid for her own Christmas parties, birthday parties and made sure she was paid in advance, added Rev. Watson. She helped people in Detroit who needed help quietly, feeding people, burying people and supporting leaders and clergy.
"She was the world's queen, greatness and authenticity of Detroit," Ms. Watson declared. "She was in class by herself, she will forever be our angel queen," she said. "She is Queen Mother raised to the ancestral realm. Thank you God for her life."
Former Detroit Piston and basketball great Isaiah Thomas, a close family friend, helped pay for a free tribute concert as part of commemorations. He described Ms. Franklin as a positive force in a troubled nation.
"When the world was telling us, 'ain't no way,' she found a way to inspire all of us with hope, with love and dreams through her music," Mr. Thomas said. "Her voice—her soulful instrument—found a way to soothe and deal with its troubled past."
Motown Records giant Smokey Robinson reminisced about meeting Ms. Franklin at eight-years-old, through her brother Cecil, and hearing her sing as a child. "The world is celebrating you," Mr. Robinson told his "oldest friend" before singing "My Buddy," and expressing his love for her.
A delegation representing President Cyril Ramaphosa of South Africa was among those packed into the Greater Grace Temple sanctuary.
Stevie Wonder told the audience, "The reason we are here today is because of love, how much we loved this woman." Love is the only thing that can deliver the nation and the world, he continued. "We need to make love great again. Because Black Lives Do Matter," he said. "Because all lives do matter."
He closed the service singing the lyrics, "I'll be loving you always." The funeral service rose to a crescendo as singer Angie Stone, actress and singer Jennifer Lewis, and two gospel artists, joined in collaboration, blending stirring music before final prayers. Pall bearers carried the gold coffin out of the church for internment in Woodlawn Cemetery, followed by the Franklin family.
Jennifer Hudson sang "Amazing Grace" and Jennifer Holliday performed an emotionally-charged "Climbing Higher Mountains" during the funeral recessional. At the Queen's request, Ms. Hudson will play Aretha in an upcoming movie.
Long Live the Queen.