Shut'em Down! - No More Deaths, No Business As Usual
By Bryan Crawford and Tariqah Shakir-Muhammad

CHICAGO—Father Michael Pfleger is no stranger to organizing marches through communities on the city's South Side that are most prone to gun violence.
But a Saturday march on a major highway sent shockwaves through the city and attracted national attention. The shutdown of the thoroughfare raised questions about politics, organizing and calls for ending violence and neglect of the city's Black neighborhoods.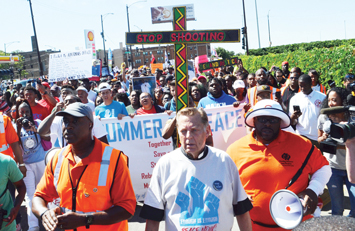 Father Michael Pfleger (middle), longtime activist priest, called for demonstration which drew a huge crowd of young people and elders. Photo: James G. Muhammad
For more than three decades Father Pfleger has led peaceful marches through the Auburn-Gresham community flanked by those victimized in some way by gun violence, and others who simply want the madness to stop so that people, young and old, can feel safe in their neighborhoods.
But July 7 commuters and travelers headed downtown got a taste of inconvenience as traffic stalled and stopped on a section of one of the city's busiest expressways, the Dan Ryan. "I want people to be mindful of the inconvenience of those who don't go to work and have to attend funerals or make funeral arrangements or go to the E.R. to go attend to their loved ones who've been shot or killed," said William Calloway, a Black man in his early 20s, who lives in the South Shore community, which has a high violence rate. He was among a couple thousand people who joined the demonstration.
Protestors arrived and made their way down ramps to the highway where Illinois State Police and Chicago cops, led by Supt. Eddie Johnson, had closed a couple lanes to traffic. Traffic barriers and vehicles were used to separate demonstrators from moving traffic.
After about four blocks of walking, the demonstrators made it clear that they wanted to stop all traffic. A tense hour of waiting followed before all northbound traffic was halted and demonstrators controlled the freeway.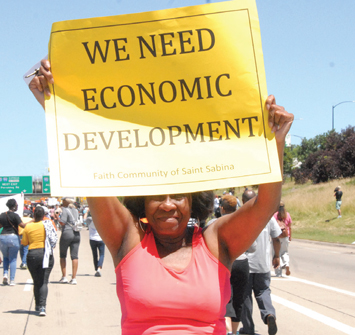 Calls for economic investment in Black neighborhoods was a theme. Photo: Haroon Rajaee
"Hopefully, so-called leaders will make a change and stop thinking this is a circus; see me and my husband are not here for a circus, we're here for the cause of our young Black people, our future," declared a woman in her mid- to late 30s. "Anytime the non-colored do their thing, it's not inconvenient to them and they stop traffic and do their thing and everybody says, 'hello, hello.' This is for a cause—I think (the opposition), it's a fear more than anything."
The shutdown occurred after Father Pfleger told the city police chief there would be a safety emergency if the additional traffic lanes were not stopped.
"This is unacceptable," Gov. Bruce Rauner tweeted midday of the protest. "We had clear parameters that allowed the protestors to be heard while respecting law and order. Instead, they chose instead to cause chaos."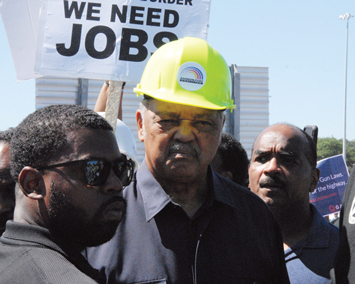 Rev. Jesse Jackson participated. Photo: Haroon Rajaee
Later, he blasted Mayor Rahm Emanuel. "I'm disappointed in the Mayor. There was an agreement in place," the governor tweeted. "I am calling on the Mayor to take swift and decisive action to put an end to this kind of chaos. I will work with him in good faith and urge him to do his job so that the people of Chicago feel safe."
"It was a peaceful protest. Delete your account," the mayor responded.
There was no deal with Mayor Emmanuel, who came out late in support of the march, nor Republican governor Rauner who opposed it, said Father Pfleger.
Prior to the demonstration, Illinois State Police, who control the expressway through the city, threatened to arrest anyone who attempted to shut down the thoroughfare. City police brass warned such protests would siphon cops from already suffering neighborhoods.
That changed after the mayor declared the anti-violence protest was proper: His handpicked police chief was on the scene, denying any shortage of resources. And, according to Father Pfleger, the chief told state police his force would shut down the highway out of safety concerns.
Father Pfleger talked about the protest and future plans over the airwaves of WVON AM Black Talk Radio July 9 during the Perri Small Show.
The politicians may have made a deal but the demonstrators were not part of any political compromise, he said.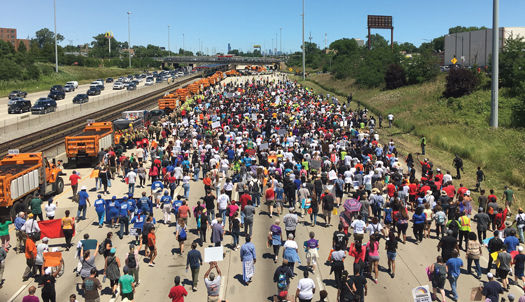 Anti-gun violence march made national headlines as demonstrators converged on the Dan Ryan Expressway carrying signs calling for policies to solve problems plaguing the Black community. Photo: Tim 6X

It was an emotional day as demonstrators voiced demands for resources to address a myriad of problems. Left Photo: James G. Muhammad, Right Photos: Haroon Rajaee
The next steps are meetings between young people and city officials to work on problems that have existed for far too long, said the longtime activist priest.
Questions loom about what this powerful display could mean for a mayor and governor who have been embattled and face reelection in 2019.
"As with any cause, all it takes is one person to get together, someone will hear us. The theme is again, just like back in the '60s, the '70s, the '80s 'One voice, one vote,' " said Sherri Halldupart, who marched down the expressway.
"They don't want this rally to take place," added city resident Robert Willis. "They don't want the people to express themselves. They are taking a hardline position in order to try and put fear in the people's hearts and people have gone beyond fear. … This is generating energy, even though they the old heads, they're generating energy and the young people get encouraged and stand up for themselves."
"Minister Farrakhan always says that if you're not willing to accept the risks that come with standing up, then you shouldn't get involved," Father Pfleger told The Final Call. "Mass civil disobedience was a key strategy during the civil rights movement," he noted.
"We wanted to take it up a notch and we wanted to do something en masse that would interrupt business as usual in a larger way. We want to shut it down and inconvenience a large number of people on purpose because when people get inconvenienced, they begin to speak up and call on those who can fix this because now, their lives are being interrupted."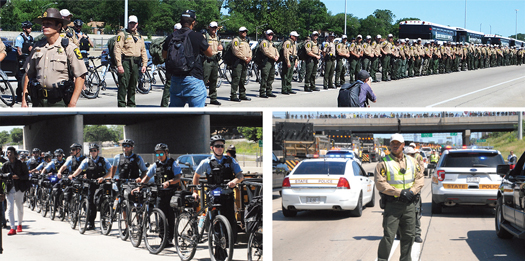 The Illinois State Police were in full force, along with Chicago Police, during the July 7 demonstration. Photos: James G. Muhammad
In May, Chicago police released data showing gun violence had dropped for 14 straight months. Police said between Jan. 1, 2018 and April 30, 2018, shootings decreased by 27 percent and murders by 22 percent, compared to the same time the year prior. Police reported overall crime decreased 12 percent in 2018.
Some feel those numbers are misleading. Every day there are still too many men, women and children falling victim to gun violence, they say.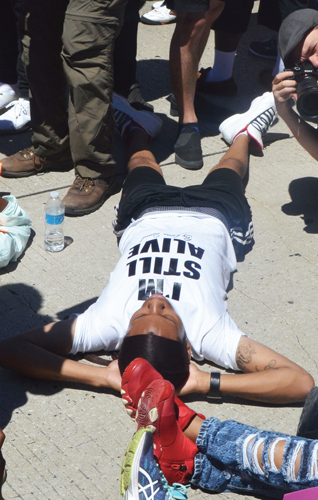 Demonstrator lays on ground during Saturday march on the Dan Ryan Expressway in Chicago. Photo: James G. Muhammad
"The police have always manipulated numbers to make themselves look good. … To make it look like they're taking care of business," Tio Hardiman, president of the Violence Interrupters Initiative, said.
While police report a drop in shootings and murders, the raw numbers are still grisly. Between January and April, 710 people were shot and 146 killed. There have also been 61 children, 15 years old and younger, who have been hit by gunfire this year.
"Conditions of neglect and abandonment on the South and West Sides have gotten like they have because the people outside of those areas have not been concerned, and not only that, don't seem to care," Father Pfleger said. "There was a woman who told me that I was forcing her to get off the expressway and go down State St. and that she didn't feel safe in those neighborhoods. I told her ma'am, we don't feel safe there either. … We live at risk. We're trying to force other people to care. That's the reason we didn't do another march in the community because this will interrupt a whole other segment of people who use the Dan Ryan to zip through to downtown."
The goal of the Dan Ryan expressway march wasn't simply to inconvenience motorists, nor was it a public relations stunt to bring awareness to a widely-reported and politicized problem. Marchers said the city and the state must provide resources to help create long-term, permanent fixes to the problem of Chicago gun violence.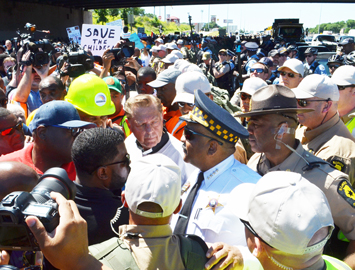 Father Pfleger and Chicago Police Superintendent Eddie Johnson at July 7 demonstration. Photo: James G. Muhammad
One of those potential fixes was a bill calling for the state to license and regulate gun shops. Some of the provisions in the Illinois bill, outside of already federally mandated background checks and sales transaction records gun shops are required to follow, would call for background checks on all store owners and employees, as well as training on how to conduct background checks on customers, deter deceptive purchases and theft, and gun storage. Before receiving a license to operate, gun shop owners would undergo an inspection and receive written approval to operate from local county sheriffs.
The new rules would have applied to any business that sells, leases or transfers 10 or more firearms annually, requiring licensing by the Illinois Department of Financial & Professional Regulation at a cost of $1,000 every five years. Gov. Rauner vetoed the measure, arguing state licensing measures would duplicate federal requirements and be too expensive for gun shop owners. And, he argued, there was no evidence that public safety would be improved.
"Gov. Bruce Rauner was wrong for vetoing that bill because it was like a slap in the face to all of those anti-gun and anti-violence activists who are out here putting forth their efforts in the streets," Mr. Hardiman said. "Too many illegal guns are being shipped to Chicago and they end up in these young brothers' hands out here. … Reducing gun violence by passing sensible gun legislation makes sense. But Gov. Rauner has disappointed the people of Illinois on many fronts, and this is just one more disappointment to add to his long list."
Father Pfleger said youth groups involved in the Dan Ryan shutdown, created a list of policies they would like to see enacted to not only limit the number of guns flooding Chicago's streets, but also create more mental health and trauma services to meet community needs. They would like to sit down with candidates personally to discuss what concrete plans candidates have to offer.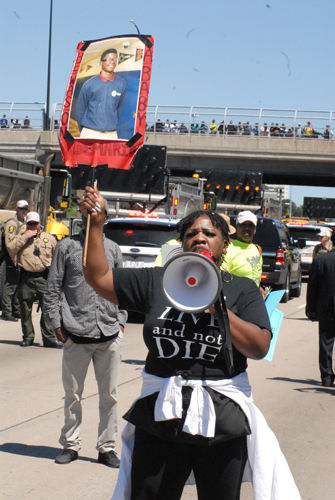 Participants carried signs with images and names of friends and loved ones who have been victims of violence in Chicago. Photo: Haroon Rajaee
"With violence steadily increasing in our city, our elected officials are still not trying to solve our problems," said 20-year-old Trevon Bosley, who lost his brother Terrell to gun violence in 2006. "We're not going to vote for Democratic or Republican candidates. … We're going to vote for issues that affect us."
Youth involved in the march said if they are ignored by city and state government, other acts of civil disobedience will occur until both parties sit down and hear them out.
"Since the beginning of this, we've been saying that the violence has to end with the neglect and abandonment of these communities stopped by the government, and it has to end within the community by us not turning on each other and shooting and killing one another," Father Pfleger said.
"Both sides play a part, and this gun violence will stop once we get the resources to create more options for people, which will play a part in the decision for them not to shoot each other. We will continue to fight a government that has abandoned these communities, but we must also commit to one another to make each other safe. … And we have to keep doing that. The churches, synagogues and mosques have to be a part of that by getting the word out and getting out into the streets."
Young people and protest participants used chalk to write the names of loved ones lost to gun violence and encouraging words on the walls of bridges across the expressway. It was emotional with hugging and displays of support.
Mr. Hardiman stated matter of factly, "The only way to stop gun violence in Chicago is the Black community—especially Black men—must unify. Stopping the killing is all about unity amongst our people."
(Final Call staff contributed to this report.)