'We're never safe': Cop killing of woman in her home, mob actions reminders of fragility of Black life, say analysts



By Brian E. Muhammad, Anisah Muhammad and J.A. Salaam The Final Call @TheFinalCall


A police shooting in Kentucky and vigilantes in Georgia and North Carolina once again exposed how fragile Black life remains in America and the New South.
The family of Breonna Taylor, a 26-year-old aspiring nurse and EMT in Louisville, Ky., have filed a personal injury and wrongful death suit against police officers with the Louisville Metropolitan Police Department in what lawyers called a botched raid on her home.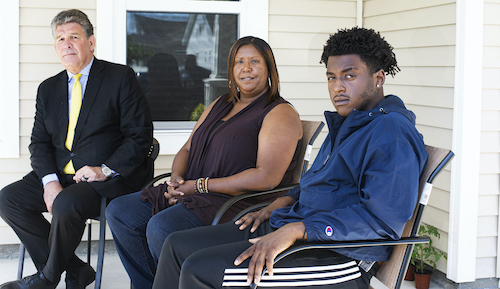 The family is charging battery, wrongful death, excessive force, and gross negligence and is seeking compensatory and punitive damages. Ms. Taylor's mother, Tamika Palmer, filed the suit in late April against three officers involved.


"The actions of the Defendant officers were made in bad faith, were performed with a corrupt motive, were outside the scope of the Defendants' authority, were executed willfully and with the intent to harm, and were in violation of Breonna's constitutional and statutory rights," the lawsuit alleges.

Calls from The Final Call to the Louisville police department for responses went unanswered.

Ms. Taylor was gunned down in her own home in what family attorneys say was a "no knock" police raid at 12:30 a.m. at the wrong address.

"Police alleged that they knocked," Lolita Baker, a Taylor family attorney told The Final Call. "Neighbors, however, indicate that they didn't hear police officers make an announcement," she added.

The cops, who were in plainclothes, used a battering ram to bust into the apartment, Attorney Baker said. Breonna and her boyfriend, Kenneth Walker, 27, thought they were being burglarized. Mr. Walker, a licensed gun owner, responded to the chaotic scene by firing on what he believed to be intruders.

"Her boyfriend fired a shot to protect his home … and hit one of the officers involved. Again, they did not know these were police officers," said Atty. Baker.

The police returned fire with about 20-30 shots, eight bullets fatally struck Breonna.

Mr. Walker was arrested and charged with first-degree assault and attempted murder of a police officer, but was later placed on home confinement by a judge.

The lawsuit said the target of the warrant was someone who was in police custody before the fateful encounter.

"They had the main person that they were trying to get in their custody, so why use a battering ram to bust her door down and then go in there and execute her?" asked civil rights attorney Benjamin Crump, who is also representing Ms. Taylor's family.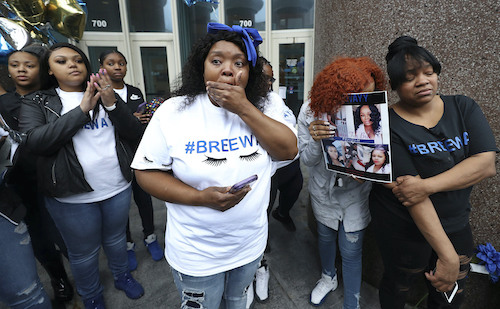 The mantra "Say Her Name" tragically came to the fore again as Ms. Taylor's family, activists and a sick and tired community grappled with another killing of a Black woman from bullets fired by officers sworn to protect and serve the very people they're killing.

It was two months before the March 13 killing of Ms. Taylor was brought to national attention.

Momentum is building around the country for justice for Breonna on the heels of other cases where Black lives were brutally taken, including the killing of 25-year-old Ahmaud Arbery in Brunswick, Ga., by a White father and son. Gregory McMichael, 64, and his 34-year-old son Travis were charged with murder and aggravated assault. Authorities took 74 days to arrest the two, though the killing was widely known.

Mr. Crump said although there were many differences between the cases of Mr. Arbery and Ms. Taylor, neither case immediately attracted widespread attention, despite efforts of activists and family members.

"It seems that there is a pattern where there is a cover-up, then facts come out later," said Jerald Muhammad, the Nation of Islam representative for Louisville.

Black mother, son terrorized

In Wilmington N.C., armed White men and women terrorized a Black family May 3. The mob knocked on the door of Monica Shepard and her 18-year-old son Dameon, supposedly looking for a missing 15-year-old White girl. It was a volatile situation reminiscent of early to mid-20th century lynch mobs. "I was vulnerable. They had the crowd. They had the weapons. I had nothing," Ms. Shepard told Associated Press.

"I was standing before a crowd, but I had the faith. I didn't have any fear for myself, and I think maybe that was displayed in my eyes, because I told them, 'I don't care. You're not coming in my house, period.' "

In the aftermath, Jordan Kita, a White New Hanover County deputy-sheriff was arrested and charged in the matter. During the ordeal he was armed, in uniform though off-duty and acting outside the scope of his authority. There were several other armed people and local authorities say enough information exists to make additional arrests. The mob was also at the wrong home.

These are among several cases of White terror perpetrated on Black people either by cops or Whites in recent months, said analysts.

"It's a reaffirmation of what Black people already knew," said Dr. Ricky Jones, chair of the Pan African Studies Department at the University of Louisville. "We're never safe, from taking a jog, to sleeping in our own beds."

America has never been serious about addressing the reality that Black people are always in danger in this country, he told The Final Call in an interview.




An indicator is the most recent bias crime numbers released by the Justice Department in 2019. Tracking single-bias hate crime incidents for the prior year 57.5 percent were motivated by race and 46.9 percent of the crimes were against Blacks.

"What we're seeing … is another example of how Black lives can be snatched away, then that death can be ignored on every level of the so-called justice and political system," said Dr. Jones.

"When these things happen, whether its Ahmaud Arbery or Trayvon Martin or Tamir Rice and now Breonna Taylor, we never know what the outcomes of these cases will be."

Even when there is video evidence of Black lives being taken, such as the killing of Mr. Arbery, justice is often not visited upon Whites who take those lives.

"In America Black lives don't matter. To many in America, we're throwaway people," said Dr. Jones.

If Black life were valued, he argued, a commitment to thoroughly investigate the wrongful slaughter of Breonna Taylor would not have taken months and public prompting.

"We get a lot of projected symbolism and imagery suggesting that the country has changed, that there is equal opportunity, that whatever Black people suffer is a result of collective Black failure," said Dr. Jared Ball, professor of communications at Morgan State University in Baltimore and the author of the newly published book, The Myth and Propaganda of Black Buying Power.

"But the reality is that, when we weigh the subtext of the messaging, the subtext of the education in this country and the subtext of commercial media, both liberal and right-wing, Black people are inferior, Black people are deserving of the inequality we suffer and, or Black people are unjustly taking advantage of what White society has produced," Dr. Ball continued.

He said White America's class problem and White people being locked out of the economy and put into desperate financial conditions contribute to vigilante, terroristic actions.

As more people suffer and lose jobs due to the Covid-19 crisis, White people will "satisfy that desperation with a return to old fantasies of their superiority," he said.

Reverend James Woodall, the state president of Georgia's NAACP chapter, placed the blamed on White supremacy.

"When I say White supremacy, I don't simply mean a series of biases that ultimately lead to a White person killing a Black person," he said. "I'm talking about a system and institutions in our country and in our world that continue to allow the kind of racialized terror that continues to go unanswered and unaccounted for."

He said the country is not too far from the post-reconstruction era of the 1800s, when slave catchers would see Black people in the streets and arrest them, regardless of whether they were free or not.

"That same law is what we have here with the Ahmaud Arbery situation, where a White man who identified himself as a citizen had the authority under the law, in some people's opinions, at least, to literally arrest a young Black man and assume that he was one, not a citizen, two, a criminal, and three, worthy to be shot to death," he said.

Rev. Woodall sees the country going to a dark place of terror, violence and war.

"The only thing Black people need to do is live. Because the burden of resolving White supremacy is not on those who are oppressed. The burden of breaking down institutions and destroying systems of White supremacist terrorism is on the oppressor," he said.

He urged people to not indict the people of Southeast Georgia in the Ahmaud Arbery case because they have worked tirelessly to ensure that justice for Ahmaud becomes reality.

The Southern Christian Leadership Conference released a press release on May 7 calling for the U.S. Department of Justice to investigate the killing of Mr. Arbery.

In the press release, Dr. Charles Steele, the organization's president, said Waycross District Attorney George Barnhill and other law enforcement officials who did not act in the best interest of the public must be removed from office.

"We do not need racists or people who cover up the actions of racists in these positions of authority and leadership," he said. "Racism is no different than the Covid-19 virus. It is contagious, and it is a serious, silent killer in America. We have to eradicate it from our system."

Dr. Greg Carr, chair of the African American Department at Howard University in D.C., also went back in history to define what is happening and why.

"Any random White person is effectively a deputy police person when it comes to Black people," he said.

He defined the United States as a "state with nations in it."

"Out of all the nations in the United States, it's the White nations that are the least well-defined, because the irony is, in order for there to be a White nation, it has to have something to define itself against. Against the Native American nation. Against the Africans. Because if you take out the Africans, if you take out the Native Americans, the White nation dissolves," he said.

He said the future of the United States depends on how people who live in it respond to that dissolution.

He mentioned three things Black people should do: study and follow the models of those who have had success in building a post-White world, organize around entities such as the Black church, the Black mosque, the Black school and Masonic organizations, and have faith.

The recent killing of 21-year-old Sean Reed in Indianapolis, Ind., who captured his fate on Facebook live as he fled pursuing officers and jumped out of his vehicle moments after the high speed chase, has made recent headlines.

The officers shot him at least 10 times while he lay on the ground after being tased.

Anthony Shahid, a St. Louis-based activist and veteran of the 2014 Ferguson, Mo., uprising after the police killing of Mike Brown, Jr., said he is hurt and upset at how Blacks are shot down like animals.

"They just kill us for absolutely no reason. They don't treat us like human beings. There are certain times you can hunt for deer and you can't shoot deer all year long. You better not get caught shooting their symbol, a bald eagle, you better not!" he noted.

"But, it's never not a time that they're not killing Black people. They have to kill us; they don't need a license to kill us. They don't need us anymore. We can't call out racism anymore because they got a law. They are taking our lives, and not apologizing about it. They stand toe to toe and think it's ok with what they're doing."

White fear of becoming extinct

Dr. A. Wayne Jones, a professor and spiritual teacher in St. Louis, said "In the light of the most recently reported incidents of the violent and vicious attacks and murders of Black man jogging and Black woman resting in her home, we must acknowledge that the illusion of legality and indignation against crime be brought into sharp unfiltered focus.

"The rage exhibited by the White perpetrators of these egregious crimes are expressions, not of hate, but of White America's deep seated fear of Black America's awakening from its aphasic stupor imposed and induced over the four hundred years straddling 1619 to 2019," said Dr. Jones.

"This massive loss of employment, livelihood, and social movement has exacerbated the profound reflexive destructiveness that has always been the nature of Whites. Coupled with the realization that by 2050 he will become genetically extinct in that only four percent of his women of childbearing age are fertile, and procreation rates are woefully beneath the 2.1 percent replacement index. He fears his disappearance and is driven to take it out on those he presumes to be the most vulnerable scapegoats. We have awakened, we see the mask fallen," said Dr. Jones.

"Donald Trump's rhetoric has been the rocket fuel for hate groups and White supremacists. They are operating on high octane. They are feeling untouchable in the Justice Department," added Adolphus Pruitt, St. Louis City NAACP president.

"Racial hatred and racial prejudice are deep seated in the fabric of America. While it is alarming, it is not surprising," said Benjamin F. Chavis, president and CEO of the National Newspaper Publishers Association. NNPA represents over 200 Black-owned newspapers across the country.

"I think the South is anything South of the Canadian border. The whole country is the South," said Dr. Chavis.

He was asked if the incidents in Southern cities was indicative of old Southern ways superimposed on a New South image.

"It cannot be a New South until there's a new America and there will not be a new America until there's a reaffirmation of a new Black America," he said.

"There is a history of overt violence on unspeakable levels in the South," commented Dr. Ava Muhammad, the national spokesperson for Honorable Minister Louis Farrakhan and the Nation of Islam.




She described the image of a New South as a "veneer of civilization" and "advancement that covers the dark underbelly" of White racism. She pointed to cities like Atlanta, Ga., and Charlotte, N.C., that have the trappings of "so-called more advanced" cities in response to Black people and people of color.

However, "a crisis always brings out the true nature of any living organism," said Dr. Muhammad. "Because in the quest for survival, you don't have time for the trappings of socially acceptable behavior. The true you comes out."

What's happening now is a manifestation of what has never gone away for Blacks in America, she added.

"You have the 'ebb and flow,' the violence is in cycles. A decade here and there of calm, then we're back to the acute and overt violence again," Dr. Muhammad observed.

"As Abraham Lincoln said, 'they suffer from our presence.' Our presence is a crime in America, and this is why our sister Breonna is dead," said Dr. Muhammad.

The solution is for Black people to begin acting on the formation of self-contained communities, she continued. Separation if necessary, she argued, because for centuries Whites have been difficult to live with in peace.

"It's a futile exercise to try and assimilate into White America and live in peace," said Dr. Ava Muhammad.

She pointed to recent waves of racial killings of the worst kind in Texas, Georgia, Kentucky, and Indiana. "There is no safe haven for us except we have several states of our own," she said.

"This coronavirus," Dr. Ava Muhammad added, "as lethal as it is, it pales in comparison to the danger we're in from White America."