Remembering Elijah Al-Amin: A collision between an innocent victim, White fear and White supremacy



By Barrington M. Salmon Contributing Writer @bsalmondc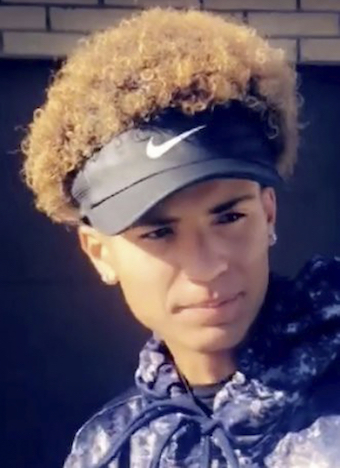 This undated photo provided by Serina Rides shows her son Elijah Al-Amin. Photo: AP Serina Rides




The sheer audacity and the ruthlessness of Elijah Al-Amin's death is reverberating far beyond the Circle K convenience store where a man—two days out of prison—walked up behind him while he was getting a fountain drink, stabbed him twice in the back and then cut his throat.

Elijah, 17, died shortly after in a Phoenix area hospital in the early morning hours of Independence Day.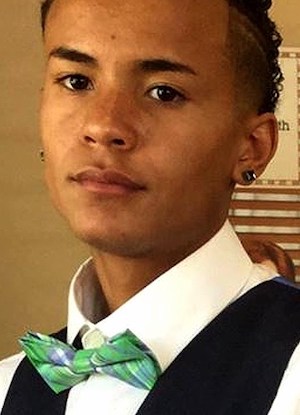 Elijah Al-Amin, 17, was stabbed to death at a convenience store in Peoria, Arizona. Photo:MGNonline.com


Black parents across the country are holding their children closer, pulling them aside to warn them of the ever-present dangers for children of African descent in America and praying for them every time the young people leave the house.

And in Phoenix, Elijah's parents, family and others stunned by his murder, are hoping justice will prevail.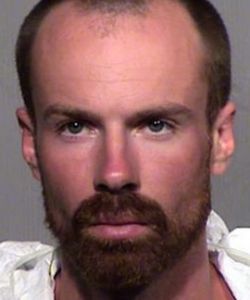 Michael Adams has been charged with first-degree premeditated murder. Photo MGN Online




Law enforcement officials identified the killer as Michael Paul Adams, 27. Elijah had stopped at the convenience store after work and walked into the store followed by Mr. Adams. Witnesses say there was no conversation or any type of confrontation prior to Mr. Adams' attack. The police found Mr. Adams walking nearby the convenience store.

And according to probable cause documents filed by Peoria, Ariz., Mr. Adams confessed, telling them he felt unsafe because of the rap music Elijah was playing. According to court documents, Mr. Adams yelled at detectives and said "rap music made him feel unsafe because in the past, he was attacked by people who listened to that music genre." Mr. Adams is also said to have told detectives he "needed to be proactive than reactive and protect himself and the community from the victim."

Mr. Adams was booked into the Maricopa County jail on suspicion of first-degree premeditated murder and held on a $1 million bond. His arraignment was scheduled for July 18.

In his first court appearance, Mr. Adams' lawyer Jacie Cotterell told the court he's mentally ill. She repeated her assertion in a TV interview where she accused the Arizona Department of Corrections of releasing Mr. Adams without sufficient supervision or resources.

"They released him to the streets with no holdover meds, no way to care for himself," Ms. Cotterell said. "This is a disabled person and he's been released into the world and left to fend for himself. And two days later, this is where we are."

Ms. Cotterell said Adams needs to be treated for his illness, not sent to prison. She also said she wants to see policy changes and more resources and psychiatric help made available for incarcerated individuals while they're behind bars.

"I believe that this crime was preventable," she said. "Policy is all well and good, but when policy fails, I think a reasonable person and reasonable people would agree policy needs to change."

Corrections department spokespeople said Mr. Adams had not been classified as seriously mentally ill and was not on prescription medication at the time of his release. He was given contact information for social service providers, they said. "He was no longer under the department's legal jurisdiction and the department had no further legal authority over him," a spokesman said in a statement.

Ms. Cotterell's focus on Mr. Adams' mental illness has angered activists, the public and parents Rahim Al-Amin and Serina Rides.

"It still feels like a really bad dream," Ms. Rides told a reporter on Good Evening Arizona. "I just can't foresee how I'm supposed to do this every day, live without my son because somebody says they have a mental issue, because of my son's passion for music … this definitely is a hate crime. He specified exactly Hispanics, Native Americans and African Americans. He specified that, he specified rap. That's not a hate crime?"

If Mr. Adams was such a threat, so unstable, she said, why was he released back into the community?

"The world really messed up because that man took my son's life. I don't want any parent to suffer like this like his father and I," the distraught mother said during the interview. "The Department of Correction needs to figure out how to assess these people. Somebody has to be responsible for that. The hardest part is … is learning to live without my baby …"

Elijah's death trended on social media under the hashtag #JusticeforElijah and Twitter users, Elijah's friends, family, activists and others were demanding that Mr. Adams be charged with a hate crime.

Kristen Clarke, president and executive director of the national Lawyers' Committee for Civil Rights Under Law, said on Twitter, "This murder is a hate crime that must be investigated by the DOJ." Another Twitter user, K'La@kalahspeaks said: "And yet again another name to add to this already full flag of unarmed black men, women and children, but it's a 'mental health' issue. No, it's a 'too much melanin.' #JusticeForElijah."

This tragedy is eerily similar to the murder of Jordan Davis, 17, who was shot and killed at a gas station in 2012 by 47-year-old Michael Dunn, who fired into the car with four Black teens because he objected to their loud music argued with Jordan about it. Mr. Dunn is serving life in prison.

Hilario Muhammad, protocol director of the Nation of Islam mosque in Phoenix, said he had learned that Elijah worked at Subway, had worked late, gotten off of work, got a ride and stopped at the Circle K.

"He was catching a ride with a friend who worked at Subway with him," Mr. Muhammad said. "He was a young man of good character, with no priors. Everybody is devastated because of the reason why he died. What's making people angry is that lawyer is using the mental illness defense. He confessed to the murder and there was a video camera in store."

Phoenix resident Susan Marie Smith could barely contain her anger.

"It is a system of discrimination that the Department of Justice has allowed to keep happening. A Black man with no weapons is killed and the system will allow him to plead insanity," the entrepreneur and former veteran said. "It's the justification of bullshit. He said 'I'm gonna kill this nigga.' "

Mrs. Smith said she's pretty sure he "knows the system and that if you say that Black people are threatening or look intimidating," he'll get off. The cops always get off with that verbiage and they know how to frame the narrative, she said.

"We're hearing a contradiction with the state of his mental health. They say when he got discharged, he was supposed to be on medication. But prison officials also said he didn't need any. They're trying to make the department responsible for his mental health. The killer had enough sense to know right from wrong or he wouldn't have followed him. He had to think how to confront the young man and he attacked him from the back, that's strategic. It's clear he was angry at Black people. Maybe he got his ass kicked by some Blacks in prison and saw this as a way to get revenge."

"The family should sue the state if he was released while mentally ill."

Eric Muhammad, his wife—owners of the Urban Arizona News Journal newspaper—and other interviewees described Arizona as a racial tinderbox with the couple saying they've seen groups like the Patriots, Neo-Nazis and other Whites becoming more assertive, particularly in public meetings, since Donald Trump became president.

"It's very interesting. A lot of people feel that we're actually targeted by police," Eric Muhammad explained. "This is a very conservative city, run by non-Blacks. There was a larger Black community when I came in 1991. Now a lot of people are coming here. It looks like there's a resurgence of consciousness."

Yet at the same time, Mr. Muhammad's wife Constance added, there is the increased presence of Whites who resent the presence of Black people and take issue with any attempt by them to assert themselves or their rights.

We live in a time, interviewees said, when seeking to constrain Black movement, thoughts and speech feels right and natural to more than a few White people.

Georgetown Professor Robin Marcus captured the sentiment in an earlier interview.

"In the last few years, there's been a rising tide all over the world of White people alarmed by the rising tide of Blackness," she told The Final Call. "It is the strain of American Whiteness that has had enough and found a leader who's so overtly for them. He's gotten in the house and opened all the doors."

Maricopa County Attorney Bill Montgomery reminded the public in a press conference that "Elijah did nothing wrong" and didn't do anything to provoke the attack. While some have focused on Mr. Adams' mental health history as a possible motive, Mr. Montgomery encouraged people to shift the narrative back to Elijah, who was the victim.

"Elijah did nothing wrong," stressed Mr. Montgomery, the father of a teenaged son, who at one point choked up. "He was at a convenience store. He was just in there shopping, buying whatever a 17-year-old boy is going to buy."

Elijah's parents said the same as they described their son in glowing terms.

"He was a good kid, very good kid, always wanted to help people in general," Rahim Al-Amin said in a television interview shortly after his son's death. "He was just my son, I mean, he was just a good kid going to school. ... He was just a good kid. It's unfortunate this happened to him. He liked to play sports, he always wanted to help others. He was just a clown, was happy-go-lucky, that's was who he was. I could say a lot of things about my son but …"

Elijah's mother said her son was a smart, caring young man who loved to laugh, rap music, loved videogames and loved his family, always looked after his brothers and sister. Elijah was slated to be a senior this year at Apollo High School, would have turned 18 at the end of July, was in the ROTC and wanted to become a Marine and start his own business.

Milwaukee-based mental health expert and licensed psychologist Dr. Ramel Kweku Akyirefi Smith said he thinks what happened represents a failure on multiple levels.

"Corrections knew he had significant health issues. The lawyer said so," said Dr. Smith, who is also an author, and mental performance coach. "He had had no follow up with anybody. He apparently had mental health issues and was in jail for being violent. He had a propensity to be violent."

"This is also a failure of the criminal justice system and society at large for allowing racism to persist. It's the media and Donald Trump who's made rap music appear to be the trigger. He felt he was doing a 'service.' In this environment, our color and skin is weaponized. Even this young man's light skin was no protection. This is even worse than Trayvon (Martin). He was minding his own business. I don't care if the music was on his hip, on his head or in the car. This should not have happened."

What the country is seeing play out now is a legacy of White supremacy, Dr. Smith said. "They're seeing a person of color and see everything that's negative and evil," he said. "I don't give Trump that much credit. He allowed people to show their true colors. It's no longer political correctness. This is America in 2019. But this has always been America. Now all this is in full bloom. Are we doing enough to defend ourselves? No! No, we aren't doing enough. It's like a bully. He's going to mess with you until you fight back and kick his butt."

"Because we don't do anything it's allowed to go on. Until there's retaliation, they'll keep doing it. My people built this land and I'm not going anywhere. We must demand reparations, land and money. We have to come together to be effective. Until there's unity, we'll be vulnerable."