God's wrath manifesting through the forces of nature Deadly tornados, flooding continue pummeling parts of America


By Charlene Muhammad |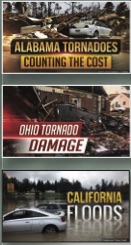 Deadly tornadoes, severe storms, and flooding ravaged America from coast to coast as proof of God's divine judgment against America as outlined in scripture and as taught by the Most Honorable Elijah Muhammad.

America is being chastised for her atrocities against the Black descendants of slaves and the Indigenous people which the country has annihilated. America can atone and be saved, or suffer extreme calamities, including the fall of the dollar and weakness of her economy, Mr. Muhammad's top student and National Representative, the Honorable Minister Louis Farrakhan, has also cautioned and instructed.

Watch the weather! Because God doesn't fight with your cheap weapons! God fights with the forces of nature: rain, hail, snow, wind, drought. He uses the insects and the animals and turns nature against you. You can't win in a war against God," Minister Farrakhan has warned consistently.

America has not heeded his call. Now, the Great Mahdi Master Fard Muhammad and the Honorable Elijah Muhammad, who back their servant and are controlling the weather, are chastising the country.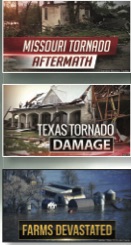 "At press time, many parts of the country were still reeling and recovering from the latest rounds of vicious weather.

The National Weather Service extended its flash flood warning after a levee broke in Northeastern Yell County, Central Arkansas. At press time, voluntary evacuations were highly recommended, particularly in Smiley Bayou near Highway 7, near Highways 155 and 154 to near the Petit Jean River. "The Arkansas River will continue to rise or remain high with major flooding expected at all forecast points. This includes water over roads, many acres of land, and engulfing some homes and businesses," reported the May 31 flash flood warning.

Along with Arkansas, flooding from a levee breach along the Durgens Creek, which flows into the levee failures in Mississippi, forced some Missouri residents to flee their homes on May 30 and May 31, according to AccuWeather.

Specifically, AccuWeather said, the levee breach took place the evening of May 30 along the Durgens Creek in Lewis County, which flows into the Mississippi River. It moved quickly south into West Quincy, which has been evacuated. "Move to higher ground now. Act quickly to protect your life," urged a National Weather Service St. Louis office flash flood warning.

The Weather Channel issued a May 30 thunderstorm watch for the Mid-Atlantic region, and between Detroit and Toledo a line of thunderstorms with gusty winds and lightning was feared.

The severe weather devastation started in late April. For 13 days, storms pummeled America. The Weather Channel categorized the stretch of tornadoes and severe weather as one of the most prolific in eight years. Prior to this, the most active, prolonged period of tornadoes occurred during the April 2011 "Super Outbreak," the Weather Channel noted.

On May 27, Memorial Day the U.S. tied its current record of 11 consecutive days with at least eight tornadoes confirmed on each of those days, according to Patrick Marsh, warning coordination meteorologist for the federal Storm Prediction Center. The previous 11-day stretch of at least eight tornadoes per day ended on June 7, 1980.

At presstime, the Weather Service had received 934 tornado reports so far this year and more than 500 of those in the last 30 days. The National Weather Service's Storm Prediction Center indicated there were over 65 tornado reports listed, many from states like Iowa, Illinois, Minnesota and Indiana, as well as in northeastern Colorado and western Nebraska.

It has been very busy, the central part of the country, especially with enhanced rifts of severe weather, said Brian Hurley, senior meteorologist with the Weather Prediction Center, which is part of the National Weather Service in College Park, Md.

"Last year, we didn't have much of a tornado season, if you will. The numbers of high-end tornadoes were very, very low last year, so one could say that that was unusual and compared to last year, we're certainly seeing quite a bit of uptick than we did last year most certainly," Mr. Hurley told The Final Call.

Over 20 inches of rain fell in one month in parts of the central area, particularly Kansas, Oklahoma, and Missouri, he stated. "Speaking of what you'd normally expect, you're talking about 400 percent of what they normally should be getting. So instead of maybe four or five inches or so, they're getting over 20."

In the Southeast, said Mr. Hurley, the byproduct has been hot and dry weather with record-breaking triple digit numbers.

Also, on the May 27 holiday, the Oklahoma Department of Emergency Management declared a state of emergency for all 77 counties due to flooding, severe storms, tornadoes, and straight-line winds, winds that come out of thunderstorms, that began in April.

According to the Oklahoma State Department of Health, area hospitals reported 118 injuries. The Oklahoma Office of the Chief Medical Examiner reported six deaths due to flooding and severe weather. There were over 7,000 gas meter and 6,300 power outages statewide, indicated the Oklahoma Corporation Commission. And the Oklahoma Department of Transportation reported numerous highway and road closures due to massive flooding.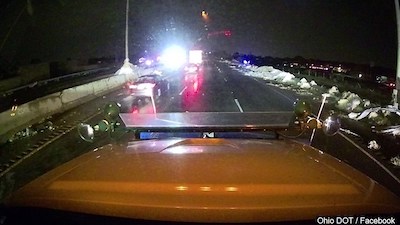 Ohio DOT used snow plows to clean the highway after a massive tornado ripped through the area, May 28. Photo: MGN Online

Melvin Delhanna, 81, died when a storm pushed a vehicle into his home, reported Celina, Ohio, Mayor Jeffrey Hazel. Twelve persons were injured, and 40 homes destroyed when a tornado with wind speeds of 136-165 miles per hour struck Dayton, Ohio, and surrounding areas early May 28. Later that day, according to AccuWeather, the National Weather Service confirmed tornado wind damage in Beavercreek, about 10 miles east of Dayton. Its winds were at 140 mph. The day before, a tornado struck near Miami County, Ohio.

Homes were severely damaged and a church just north of Dayton was destroyed. Damages included destroyed water plants and pump stations. Sixty-thousand people were without water. A boil water advisory was still in effect in some areas. A store on Salem Avenue allegedly sold cases of bottled water for $11.99, a user identified as #Love_Kemayah posted on Twitter.

AccuWeather reported a youth group of about 25 and staff rode out the storm in church bathrooms, the only part of the church that wasn't destroyed. One survivor said the tornado sounded like a jet engine. Another stated, "That's how I know God's real," AccuWeather reported.

In his groundbreaking book, "The Fall of America," published in 1973, the Honorable Elijah Muhammad declared that the four great judgments that Almighty Allah (God) is bringing upon America are rain, hail, snow and earthquakes.

"All around the Southern Border of America, storms are raging. There are tornadoes and heavy rains and more storms are on the way—one right after another. And in the North and Far West and in the East, America is surrounded with the judgments of Allah (God). There are earthquakes and the sea is raging. The Pacific Ocean is now angry and is raging and tossing up great waves as never before," wrote the Honorable Elijah Muhammad.

"Why should these things hit America? The Revelations teach you why. It is because America is filled with devils and has such unclean persons living in America. That is true under the symbolism of a hateful bird. Every filthy, slimy, wicked person comes here for a haven, where he can do any wickedness he wants to do—the country is open and welcomes that type of person," he continued.

During his February 17, 2019 Saviours' Day address, themed, "A Saviour Is Born For the Whole of Humanity: No One Need Perish," Minister Farrakhan warned further, "I don't know what the hell you all were planning in Chicago for your brother but Allah sent a cold wind after your behind. Chicago was colder than the North Pole! It was warmer at the Arctic Circle than it was in Chicago. You saw a cat trying to move, and the Honorable Elijah Muhammad said, 'God has frozen his enemies and killed them with a cold wind.' You're finished today, Satan. You have no power against the God and the Jesus Christ that I represent.

"That's why I can tell you: Watch the weather. And as fast as I get it out my mouth, He answers. I'm not ashamed to tell you that I am connected to Jesus Christ," said Minister Farrakhan.

Both the Honorable Elijah Muhammad and Minister Farrakhan have also warned of the need for disaster preparedness—storing up food, water, supplies and other necessities—for such times as these.

AccuWeather reported May 30 nearly 30 tornadoes were reported from Texas to Iowa. Patricia Mancha, deputy director for the Office of External Affairs at FEMA Region 6, which oversees federal emergency management for the states of Arkansas, Louisiana, New Mexico, Oklahoma and Texas, and 68 federally recognized tribal nations, said the agency is still working on providing recovery aid to victims of Hurricane Harvey which struck Texas two years ago. "It seems like only yesterday," she said.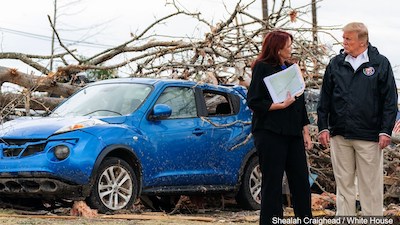 President Donald J. Trump surveys damages in a neighborhood devastated by a tornado that touched down in Lee County, Ala., Mar. 8. Photo: MGN Online



"We recommend that people listen to their local emergency management officials. Everybody talks about 'Where's FEMA? Where's FEMA?' but we only come in once we're requested to do so by the governor and the president approves it," she explained. "The real emergency managers that have visibility on the ground are your local fire departments, your police department, your state police, so it's important that people be aware of what's going on in their community … to use the tools at their disposal like social media, television, radio, even applications" for weather alerts, she continued.

The severe storms came approximately three months after Minister Farrakhan reiterated that the God he serves will use the weather, including snow and ice as a weapon in a day of war against the wicked. Nationwide, between May 23-29, 45 National Weather Service forecast offices issued a combined 423 tornado warnings for portions of 27 states.

God's divine judgment comes also because the Honorable Elijah Muhammad and Minister Farrakhan are the modern-day Moses and Aaron and were both given authority by Allah (God) to deliver the good news and warning to America and her people. However, because both were rejected and persecuted, the consequences of America's rejection and persecution is being manifested through the forces of nature with increasingly destructive intensity, said Student Minister Abdul Haleem Muhammad, Southwest Regional representative of the Nation of Islam, who is also an urban planner based in Houston.

"America's nationalistic arrogance and partisan politics has prevented the ongoing upgrading and maintenance of the nation's infrastructure, thereby rendering people and property vulnerable to 'ordinary' weather phenomenon. The infrastructure's lack of resilience, along with the vulnerability of the people and property, is amplified by an incalculable magnitude by the awesome power of Allah," he said.