Nipsey's Star Still Shines



By Richard B. Muhammad, Editor |




(L) The parents of Nipsey Hussle, Angelique Smith and Dawit Asghedom speak onstage during his Celebration of Life at Staples Center on April 11 in Los Angeles, California. (center) Samiel Asghedom speaks onstage during his brother's Celebration of Life at Staples Center on April 11 in Los Angeles, California. (r) The Honorable Minister Louis Farrakhan, National Representative of the Honorable Elijah Muhammad and the Nation of Islam, speaks onstage during Nipsey Hussle's Celebration of Life at Staples Center on April 11 in Los Angeles, California.

LOS ANGELES—Hip hop's prophetic voice is gone but the light that Nipsey Hussle offered to his neighborhood has spread and will light up the world, said family members, admirers, close friends, fellow artists and those who stood before thousands of people inside the Staples Center Arena to honor his music, his vision and his commitment to bringing life into the place where he grew up—and a place he never left.

The three-hour service was touching, inspiring and genuine as everyone from his mother to his father, his brother, his sister, the love of his life, his comrades, music greats, ministers and even former President Barack Obama spoke of the impact a man born Ermias Asghedom had and how his legacy must live on.

"The name Ermias in the language of the Eritrean people means 'God Is Rising.' The name Nipsey in that same language means 'homie,' a brother from the 'hood that never really left the 'hood. But now the world will embrace him as his life and his death changes the 'hood and produces a profound change in the world," said the Honorable Minister Louis Farrakhan of the Nation of Islam, who offered words April 11 at a memorial service streamed online around the world and carried live on several TV networks, including BET Television and local TV stations in the City of Angels.
"Ermias was more than a hip hop artist. He was a voice a brilliant mind and the spirit of God was in his life," said Min. Farrakhan, who was joined onstage by his Los Angeles representative Tony Muhammad and Nation of Islam Student Supreme Captain Mustapha Farrakhan. "His body is dead but the mind of Ermias Asghedom and the spirit of Nipsey is alive. Like a star in the universe that comes out of a black hole and a star dies, but the light of that star traveling 196,000 miles a second is still coming from space to reach us even though the star that produced that light is dead," he added. (See related article)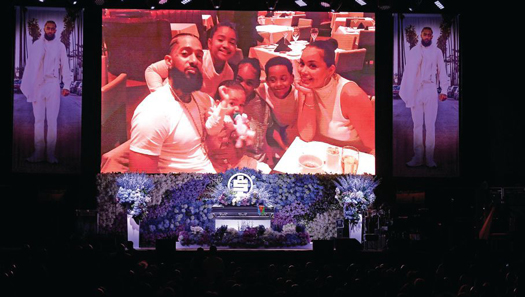 Photos are displayed during Nipsey Hussle's Celebration of Life.


The Minister's words were applauded as he urged the hip hop community and Black youth to turn away from violence in honor of Nipsey, who rose out of gang life in South Central Los Angeles and envisioned building a healthy oasis in the place where he grew up—and where many still struggle.
"Neighborhood Nip" might seem too simple for a man of profound work but his work was rooted in his neighborhood and crossing 'hood boundaries through music collaborations and supporting good works and progressive activity. He loved members of the Rolling 60s Crips, his homies, but worked with rival sets and Bloods, another street organization. The Crips and the Bloods once were sworn and deadly enemies, but Nipsey worked across the boundaries of the blue-clad Crips and the red-clad Bloods to keep gangbanging out of music and to present an example of how the groups could co-exist and have mutual respect. After his death March 31, allegedly at the hands of Eric Holder, Jr., who is a reputed member of the Crips street organization other gangs declared a truce and held a peace walk in Nipsey's name. Mr. Holder is under arrest and charged with murder.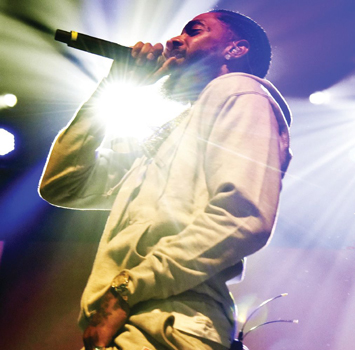 Nipsey Hussle performs during his 'Victory Lap Tour' at The Warfield on June 27, 2018 in San Francisco, California.


Musical, video and personal tributes punctuated the service, showing Nipsey and his brother, Samiel, as children and their journeys to Eritrea, the homeland of his father, Dawit Asghedom. Two trips to Eritrea, one at age 18, had a profound impact on Nipsey, who was the son of a Black American mother, Angelique Smith, and an African immigrant father. Speakers shared how Nipsey showed brilliance as a child, testing for gifted classes at his own demand, building a computer from scratch and creating software to record his music and always having an entrepreneurial spirit. He would leave school as a teenager to pursue his music and was involved with neighborhood young people in street life.

Yet, he was different, charitable, humble, self-educated and willing to chart his own course. His first major label album, "Victory Lap," was nominated for a Grammy Award earlier this year, but his legend is tied to how he used a scarcity model to promote himself. While others were giving music away, he sold 1,000 copies of his CD "Crenshaw," for $100 each, with hip hop guru Jay-Z snagging 100 copies and sending him a check for $10,000. With money from that endeavor and others, Nipsey, joined by his brother and other partners engaged in business ventures.

Police gave them problems when they tried to turnaround an abandoned shopping center and make it a viable business center at Crenshaw Blvd., and Slauson Avenue, said his brother, Samiel Asghedom, at the service. But the owners of the L-shaped plaza, where Nipsey once sold CDs out of the trunk of his car, offered to sell the young hustlers the property, instead of evicting them as police wanted, said Samiel Asghedom. Somehow, said Nipsey's older brother, they raised the money, purchased the plaza and opened the now iconic The Marathon product store, where ex-felons could find work. The smart store connects high technology to its clothing and other products, with customers able to scan tags for information and messages. Other blocks nearby were purchased and new businesses were started as well as an inner technology co-working space, Vector 90, which also houses a science, math and technology program for children and provides technology access for area residents. His work was also an example of how residents fearful of being pushed out of the Crenshaw neighborhood could resolve the problem by buying up the blocks.

Blue and white were dominant colors at the funeral but all colors were welcome with Nipsey's casket surrounded by a wall of flowers with a huge screen in the background which showed home videos, family videos from trips to Eritrea, clips from his music videos and interviews.

"I know that we are all divine creatures. We are all divinity within. We don't need to look to the sky for a God. God is within. I have perfect peace. I am happy. I am complete. I am strong. And if I can feel this way, so can you," said his mother, who was dressed in white and exuded the dignity of her queen. She recounted the brilliance of her son, whose designation in her cell phone was "Soul," with his brother designated "Heart."
She poured a libation and asked the ancestors to accompany Nipsey on this new phase of his journey. "We're burning, but we're not destroyed," she said. "I was talking to my cousin on the telephone. And one of the last things that I said to her was, 'Belinda, the world that we live in is so wicked and evil. I feel so sad and I'm so troubled and it's so very tragic that our children and our grandchildren are inhabiting this type of world.' And I told her, 'I really don't know what the answer is. I really don't know, but I think, I think that the only way to overcome the darkness is to be a light."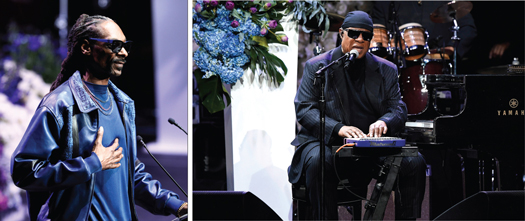 (l) Snoop Dogg speaks heartfelt words on stage about his fellow artist and friend. (r) Stevie Wonder performs on stage during Nipsey Hussle's Celebration of Life at Staples Center on April 11.




Music was performed by Stevie Wonder, which reflected verses from a song Nipsey wrote that mentioned playing the musical giant's music at his funeral. Marsha Ambrosius offered an emotional rendition "Fly Like a Bird," later Anthony Hamilton offered a song as part of uplifting musical tributes. Rapper YG, who is a Blood, talked about how Nipsey was like a big brother with their conversations about raising daughters, business and books. "I'm going to miss you bro," he said.

Dawit Asghedom and Stevie Wonder spoke out about the level of violence in America and the need to combat violence. Stevie Wonder called for stronger gun laws.

Father Thomas Uwal, an Eritrean priest, offered words of consolation, sometimes speaking in Tigrinya, the native language of Nipsey's father, and then translating those words into English. "Ermias was young. Ermias was visionary. Ermias was energetic. Ermias was full of hope. Ermias was full of life. Ermias was full of dreams. Ermias's leaving was sudden and unexpected," he said. "In times of challenge, in times of trouble like this, we hold on to our faith because God can heal our heart. God can comfort us. God can meet us every step of the way. The scripture said, Do not fear, for I am with you. Do not be dismayed, for I am your God. I will strengthen you and help you and uphold you with my righteous hand." Isaiah chapter 41, verses 10.

"The second thing is to continue lending hands to the less fortunate people, to show compassion to the poor. And I think that was the greatest strength of Ermias. He did that. He invested in his community; he helped the less fortunate one; and he inspired his neighborhood. When it's all said and done, we are not going to be judged by how much money we have, or what kind of cars we have or how rich we are, or we were. We are going to be judged by the impact we made to our fellow mankind."

Rapper Snoop Dogg, who asked the audience to bear with him as he spoke of his brother and friend, shared how Nipsey's initial approach was different, instead of promising to make a million dollars like most rappers seeking a record deal, the Crenshaw-bred artist simply asked Snoop to listen to his music. That was different, but Snoop didn't listen at first, but later he did—from there came a relationship and collaboration.
Nipsey was so far thinking that he advised Snoop to start his own theme park based on Snoop's brand and his music. The Long Beach, Calif.-bred rapper admitted he didn't fully understand. But, he said, Nipsey built his own version of the theme park with his business, The Marathon Store, and his brand.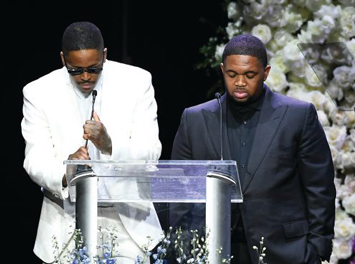 YG and DJ Mustard attend Nipsey Hussle's Celebration of Life at Staples Center. Nipsey Hussle was shot and killed in front of his store, The Marathon Store, on March 31, 2019 in Los Angeles.




The service and the influence of Nipsey Hussle was illustrated by a letter sent to the family and read during the memorial from the first Black president. Former President Obama said he learned of Nipsey through his daughters, respected his work and called for its replication. The crowd applauded with gusto as the letter was read by blogger Karen Civil. "While most folks look at the Crenshaw neighborhood where he grew up and only see gangs, bullets and despair, Nipsey saw potential. He saw hope. He saw a community that even through its flaws taught him to always keep going. He chose to invest in that community rather than to ignore it," Mr. Obama wrote.

Outside thousands pressed to get inside the downtown arena where vendors outside offered food, t-shirts and keepsakes, but the throngs were anxious to get in, despite heavy security and a lockdown of the arena. Not even the media could enter an outside working space, unless they had tickets. Nipsey's music floated over the din of voices and congested traffic in the streets near the Staples Center as people posed for selfies, embraced one another and asked a passerby if he had an extra ticket.

Nipsey Hussle departed this life at 33 years old, which his sister, Samantha Smith, noted mirrored Jesus' lifetime on earth and that was no coincidence, she said. His relationships went beyond Los Angeles and spread to other parts of the country as he toured to pursue his music and business ventures. Nipsey, in his teens, by his own accounts, began taking care of himself, hustling on the streets of Crenshaw to survive. According to media reports, there were over 101 million live streams in the two days after Nipsey's March 31 passing. Streaming and purchasing the music was encouraged because the income directly benefits his estate. Victory Lap, his latest album, sold 64,000 copies the week of April 1. Other popular songs that were streamed included: Racks in the Middle featuring Roddy Rich and Hit-Boy (11.8 million); Dedication featuring Kendrick Lamar (9.6 million); Double Up featuring Belly and Dom Kennedy (8.5 million), Last Time That I Checc'd featuring YG (7.1 million) and Hussle & Motivate (2.9 million.)

The proud West Coast rapper began his career in the mixtape circuit, selling his albums from the trunk of his car in Crenshaw. They were a success and helped him create a buzz and gain respect from rap purists and his peers. In 2010, he placed on hip-hop magazine XXL's "Freshman Class of 2010"—a coveted list for up-and-coming hip-hop acts—alongside J. Cole, Big Sean, Wiz Khalifa and others.

Nipsey, once signed to Sony's Epic Records, hit a new peak with "Victory Lap," his critically acclaimed major-label debut album on Atlantic Records that made several best-of lists last year, from Billboard magazine to Complex.

At this year's Grammy Awards, "Victory Lap" was one of five nominees for best rap album in a year that saw hip hop dominate the pop charts and streaming services, and debates ensued about which rap albums would get nominated since a number of top stars released projects, including Drake, Eminem, Kanye West, Nas, J. Cole, Nicki Minaj, Lil Wayne, Migos and DJ Khaled. Cardi B's "Invasion of Privacy" won the honor in February, while the other nominees alongside Nipsey were Travis Scott, Pusha T and Mac Miller.

T.I., another Atlanta-based rapper, took to his Instagram Live account to talk about Nipsey and take questions from his fans. Nipsey, who had a reputation in the hip-hop community for being both studious, and an avid reader, was known to give books to people. When asked what book Nipsey gave him to read, T.I. answered, "Message to the Blackman by Elijah Muhammad."

Beyoncé and Jay-Z, legendary rapper Master P, and rapper Meek Mill were among stars at the Staples Center memorial—where many pointed out the only larger funeral was the 2009 homegoing for Michael Jackson.

Perhaps the most touching moments during the funeral were when actress Lauren London, with Nipsey's children and her children by her side in their blended family took the stage. Baby Kross, who is the product of the love of Nipsey and Ms. London, grabbed the mic several times though he could not fully speak. Nipsey's daughter Emani, from a previous relationship, declined to speak but Kameron Carter, the son of Ms. London and rapper Lil Wayne, shared a dream he had about Nipsey after his passing.

"I realized Ermias told me what heaven was like. He told me it was paradise," Kameron said. He asked the crowd to join him as he counted down from three to one and asked the crowd to repeat the word "respect," a special saying he shared with Nipsey.

The hearse carrying Hussle's coffin went through a 25-mile lap through the city, including past the property where Nipsey had planned to turn an aging strip mall into new businesses and affordable homes. Thousands of people crowded the streets, some on bicycles and motorcycles, following and surrounding the vehicle as it slowly wound its way to the funeral home. The silver Cadillac passed the rapper's childhood home in Watts. It came to a halt at times, unable to move in the vast crowd of people.

The Fruit of Islam of the Nation of Islam, who were present throughout the weekend giving away nearly 150,000 free copies of the Nation's Final Call newspaper, keeping the peace and consoling mourners at the memorial in front of The Marathon store where Nipsey was shot, shepherded the hearse through the massive crowd. Tony Muhammad, who has been serving the family, was right up front, helping to ease Nipsey's journey. Perhaps as a sign of the work yet to be done, police reported an April 11 drive-by shooting of three people in the Crenshaw neighborhood after days of relative calm. One person died, according to police.

Still it didn't dampen spirits, it bore witness to the powerful testimony of Ms. London who remember Nipsey as her protector, soul mate, and love. "The marathon continues!" she said, closing her heartfelt message as the Staples Center crowd roared its approval. Nipsey's signature saying was life is a marathon.

(Final Call staff and the Associated Press contributed to this report.)