Killer cop's conviction brings relief and calls for action



By Bryan Crawford and Tariqah Shakir-Muhammad The Final Call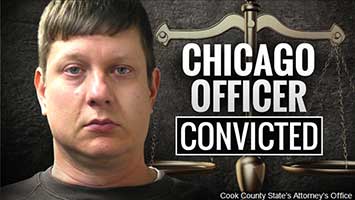 CHICAGO—Jurors in the murder trial of police officer Jason Van Dyke for the 2014 shooting death of 17-year-old Laquan McDonald, after listening to three weeks of testimony from the prosecution, defense, and even from Van Dyke himself, deliberated for a little more than a day and reached a verdict of guilty of second-degree murder.

He was also found guilty Oct. 5 on all 16 counts of aggravated battery—one for each shot the officer fired into the teenager. Jason Van Dyke became the first Chicago police officer in almost five decades to be convicted of murder in the shooting death of an individual while on duty.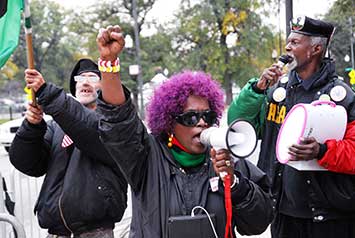 Protesters outside courthouse for trial of Chicago police officer Jason Van Dyke.
The trial was closely watched by people inside and outside of Chicago. In the days and months leading up to the trial, community activists and organizers took to the streets calling for a conviction of officer Van Dyke and justice for Laquan. The guilty verdict on Mr. Van Dyke seemed to accomplish both goals—up to a point.

But, a saga involving Chicago police department personnel who were on the scene that night will continue: Just one day before the guilty verdict, a judge unsealed prosecution documents in the case of three officers—Thomas Gaffney, Joseph Walsh and David March—are charged with conspiracy, obstruction of justice and official misconduct. They are accused of helping to cover-up what happened between officer Van Dyke and teenager McDonald on that fateful night.
"I'm so grateful to God. I know the whole country is looking at Chicago right now, but it was only because of God that we got justice," said William Calloway, who filed a lawsuit to get police video of the McDonald shooting released to the public. "We did a lot of praying. We did a lot of work. We were peaceful when we didn't want to be peaceful. There were so many shootings that happened after Laquan McDonald, and we remained peaceful. After the tape was released, we still remained peaceful. And I thank the community for remaining peaceful and non-destructive. But we want everybody to know the buck stops here in Chicago."

After the guilty verdict, people gathered downtown to march in solidarity and celebrate a semblance of justice finally being served.

"This sentence is going to reverberate through the policing community on two different levels," Corey Pegues, a former New York City police commander, told The Final Call. "The overwhelming majority of police feel like they don't do anything wrong. But I can promise you there's a small segment of police—Black, White, Asian and other ethnicities—saying that guy needed to go to jail because it was one of the most vicious crimes ever viewed on television. No cop in their right mind agreed with officer Van Dyke. Secondly, a lot of policing around the country is hands off because of the body cams and people recording them with their cameras. No one wants to be on the front page of the newspaper, but they still need to go out and do their jobs. But if any of them do what Van Dyke did, then they need to go to prison."

During three weeks of testimony, the defense seemed to place blame on young McDonald for his own death. Mr. Van Dyke echoed this sentiment himself when he testified on his own behalf.

"He could've thrown that knife away and ended it all right then and there," Mr. Van Dyke said, saying teenager McDonald ignored his commands to drop the knife. Mr. Van Dyke was among many officers at the scene and when he arrived other cops appeared to be waiting for an officer with a taser to arrive. "His face had no expression, his eyes were just bugging out of his head. He had these huge white eyes, just staring right through me," said officer Van Dyke, who exited his vehicle and emptied his weapon into the young man who was acting erratically. No other officer fired a shot.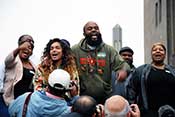 Activist Will Calloway (middle) was unrelenting in fighting for justice for Laquan McDonald. Mr. Calloway along with others filed the Freedom of Information Act (FOIA) request that eventually lead to the court-ordered release of dash cam video showing Off. Van Dyke shooting the 17 old to death in a hail of bullets.

"They always want to blame the victim. Here this poor kid was savagely murdered, and they tried to blame him for his own death, thinking it was going to sway the jury. That is common practice, and you see this all the time in policing whenever there is an officer-involved shooting," explained Mr. Pegues. "Luckily, God took care of this one. And no matter what dirty tactics they tried to use, he was still found guilty of murder."

Mr. Van Dyke, while on the stand, made a series of statements that could be viewed as outright lies, particularly when prosecutors cross examined him. Mr. Van Dyke testified that he and McDonald maintained eye contact the entire time and he never saw him turn and walk away from officers. When asked if it was his testimony that Mr. McDonald never turned his back to Van Dyke, the officer answered yes. "Then how did you shoot him in the back?" a prosecutor asked.

In the aftermath of the verdict, Chris Southwood, the Illinois Fraternal Order of Police State Lodge president, issued a scathing and tone deaf statement condemning the jurors and the judicial process.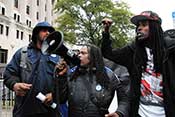 The murder trial of Off. Van Dyke was monitored closely by activists in the city.


"This is a day I never thought I'd see in America, where 12 ordinary citizens were duped into saving the asses of self-serving politicians at the expense of a dedicated public servant," Mr. Southwood wrote. "This sham trial and shameful verdict is a message to every law enforcement officer in America that it's not the perpetrator in front of you that you need to worry about, it's the political operatives stabbing you in the back. What cop would still want to be proactive fighting crime after this disgusting charade, and are law abiding citizens ready to pay the price?"

Kevin Graham, president of the FOP Chicago Lodge 7, said, "We are certainly not blaming the jury, but we do think that as we had requested, and has been done countless times throughout the country, that we could've had a change of venue which was not granted to us."

"There will be an appeal. Mark my words. We think that Jason has a tough road to go, but he's not standing alone. The Fraternal Order of Police is standing with the officer who we believe acted as a police officer and did the best he could that night."

Chicago Mayor Rahm Emanuel and police chief Eddie Johnson, released a joint statement following the verdict. "Today, the jury reached its verdict. As we absorb their decision, let us continue to hear each other and partner with each other—as public servants, police and members of the public—and let us ensure our collective mission is what endures for generations to come … . While the jury has heard the case and reached their conclusion, our collective work is not done. The effort to drive lasting reform and rebuild bonds of trust between residents and police must carry on with vigor."

Activists and community organizers also carry on with vigor, even with the conviction of Mr. Van Dyke. The fight for justice and police reform is far from over—at the grassroots organizing level and in the voting booth during upcoming elections, they said.

"No Black alderman showed up for this trial. No city council people or no Black elected official showed up. It was just us. Not one of them came for one hour to sit in this trial, not once. All of them need to go," said Mr. Calloway. "Black Chicago, we have to make sure all of these Black elected officials are voted out in these 2019 elections."

Judge Vincent Gaughan revoked Mr. Van Dyke's bond and set his sentencing for Oct. 31. The former Chicago cop's mug shot was taken and he was jailed after the unanimous decision by a 12-member jury. Sitting on the jury was one Black, seven Whites, three Hispanics and one Asian.

With the verdict announced on a Friday afternoon, activists and Chicagoans had awaited the trial outcome. They marched in victory downtown and the jury's decision drew national and international attention.

Independent journalist, Jamie Kalven, activist Will Calloway, and University of Chicago Law School professor Craig Futterman, who led a successful Illinois Freedom of Information Act request for release of police dashcam footage showing the horrific shooting. It took 13 months for the video to be released. The video only came out after a contentious mayoral election victory by Rahm Emanuel and quick payment of a multi-million dollar settlement to Laquan's family. Before the video was public, some police officials and others saw it. Heat was out on then-police chief Garry McCarthy, police higher ups and then-District Attorney Anita Alvarez for not taking action in the shooting.

Protests rocked the city alongside calls for the removal of the mayor, the police chief and the district attorney. Police chief McCarthy was fired. The district attorney lost a bid for re-election. Mayor Emanuel is not running for another term in office.

Mr. Van Dyke faces a minimum of four and a maximum of 20 years in prison on the second-degree murder conviction, of which he is eligible for probation. The aggravated battery with a firearm convictions carries a minimum sentence of six years and a maximum of 30 years in prison for each count, with no eligibility for probation.

It is unclear if Mr. Van Dyke's conviction will lead to any kind of sweeping police reforms. A consent decree outlining mandatory reforms for the Chicago Police Department, which came as a result of a Department of Justice investigation into the department after the McDonald shooting, has been finalized, but has yet to be enacted, pending approval from a federal judge. Still, the guilty verdict has brought some measure of relief to many of those who worried another police officer would get off with killing another Black man in America.

"This is a gratifying verdict," said prosecutor Joseph McMahon. "Today our justice system fulfilled its obligation to justice for all."

"We celebrate today but the fight continues because we have to do police reform, justice reform and equity of the South and West side," Father Michael Pfleger from St. Sabina Church told The Final Call.

"There's thousands of Laquans in Chicago … the fight continues, it's good to get a win every now and then but we have to continue to fight."

Wallace "Gator" Bradley, a 67-year-old activist was equally pleased to hear the conviction after so many years of officers not being held accountable. "God made it possible for all of us to see how the man was murdered with the release of that video. … It's been 50 years since a Chicago police officer has been guilty of murder," he said.

Downtown Michigan Avenue, a major shopping district, and some universities shut down at noon, shortly before the jury's announcement of a guilty verdict. Some were relieved but still angry.

Afrika Porter, an activist and media personality, echoed those who said the struggle for justice has to stay alive.

"People are comparing this to O.J. Simpson, that moment," she stated. "I'm somewhat relieved because second-degree is better than not guilty but first-degree murder would have given him a larger sentencing from what I understand."

"We can't take a vacation because we have so many others whom we have to continue to fight for," she continued. "We can't fall asleep at this time. We are excited, we have a reason to feel a load has been taken off; however, we have to continue to fight."

The mayor is very clever to not run again, Ms. Porter concluded. "We have to be even more wise as the Honorable Elijah Muhammad taught us."

"We want peace in the streets regardless of how the verdict came out," Mr. Bradley added. "What it should say to our young, African-American millennials (is to) push for the continuation of justice with the inclusion of telling other young African-Americans to stop killing one another."

(Final Call staff contributed to this report.)