In memory of the 'mother and the heartbeat of the revolution'
By
Brian E. Muhammad
-Staff Writer- | Last updated: Apr 3, 2018 - 10:48:08 AM
What's your opinion on this article?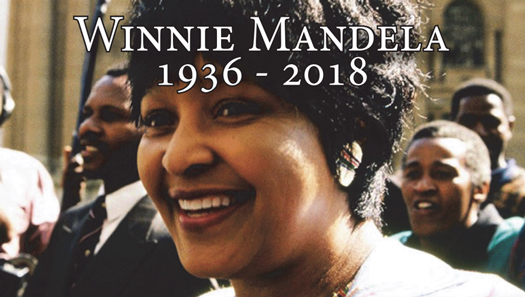 Winnie Madikizela Mandela, the queen mother in the struggle for freedom, justice, equality and self-determination in South Africa, has passed. But those who possess spirits like Ms. Mandela are rare and can never be spoken of as dead because they live lives for causes much larger than themselves.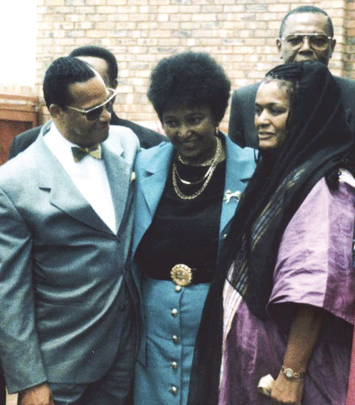 The Honorable Minister Louis Farrakhan, Winnie Madikizela-Mandela, center, with Mother Khadijah Farrakhan, First Lady of the Nation of Islam in 1996. Photo: Final Call Archive'Winnie Mandela was the true hero of the freedom movement of South Africa. Imprisoned and maligned, even by her own, she held fast to the principles of freedom, never wavering from fighting for the interests of South African Blacks, for all oppressed people around the world.'
A family statement announced that Ms. Mandela died April 2 at the age of 81 in the Netcare Milpark Hospital in Johannesburg, South Africa. According to the statement, she has been in and out of the hospital in recent months with a lengthy illness and was surrounded by family and friends when she transitioned.
"The Mandela family are deeply grateful for the gift of her life and even as our hearts break at her passing, we urge all those who loved her to celebrate this most remarkable woman," they said.
"It is with great sadness, accompanied by great joy, that we heard the news that Winnie Madikizela Mandela, the mother and the heartbeat of the revolution, had passed. The sadness that I feel and we feel is that this great woman of struggle has been called back to the only life-giver that there is, Almighty God Allah. But the joy is that the heartbeat of the revolution can never die. For the revolution cannot die until true freedom, justice and equality come to every member of the suffering Black people of South Africa and Africa, and all those who suffer injustice," said the Honorable Minister Louis Farrakhan in an official statement issued April 2. (
See full statement
.)
"And the wicked ones who have stolen the land and the wealth of Africa must eventually give it all back or it shall be taken back by God and the people who refuse to let that heartbeat of true liberation, freedom, justice and equality die. She lives and the struggle continues until total victory."
"Winnie Mandela was the true hero of the freedom movement of South Africa. Imprisoned and maligned, even by her own, she held fast to the principles of freedom, never wavering from fighting for the interests of South African Blacks, for all oppressed people around the world. Long live Winnie Mandela, our sister warrior and leader. Amandla!" said Elaine Brown, former Black Panther leader based in San Francisco, upon hearing the news of Mother Mandela's passing.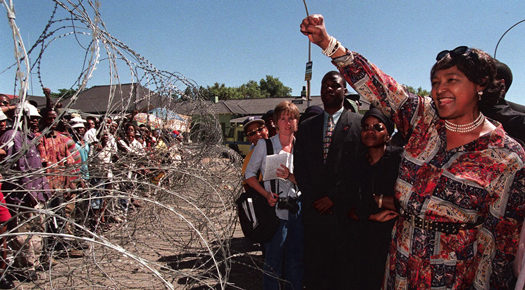 Winnie Madikizela-Mandela, former wife of Nelson Mandela, greets demonstrators, behind razor wire at a bail hearing for businessman Piet Odendaal in Viljoenskroon, in the Orange Free State, South Africa, Nov. 10, 2000. Odendaal is accused of murdering a black employee and dragging his body behind a truck in the nearby town of Sasolburg.
In the context of today's fight against Western imperialism, Ms. Brown told The Final Call, "First of all, the struggle in South Africa is not over, as Winnie herself pointed out, because when there was the refusal by the ANC to nationalize the various industries, keeping diamonds and gold and so forth, she rightly criticized that."
"I don't know what the status is of South African Blacks today, but there's similarities as to Blacks in this country, except for we are a minority and they are majority," Ms. Brown said. The bottom line is all of the diamond mines and other resources that South Africa boasts remain in the hands of enemies of the people, she said. "So, it was Winnie who pointed that out, and she continued to speak out and fight with her last breath on behalf of the interests of the poor, of the oppressed Black masses in South Africa. Now we still have a situation here in the United States where we actually have had more Blacks in prison than were in South Africa under Apartheid at one point," Ms. Brown added.
"She was an icon, a courageous, bold, fearless woman and leader in her own right," said Emira Woods of the International Working Group for Africans Striving for Justice, Peace and Dignity. Ms. Woods said Ms. Mandela's contribution, vision, commitment and dedication to South Africa resonated worldwide and will serve as an inspiration for a long time to come.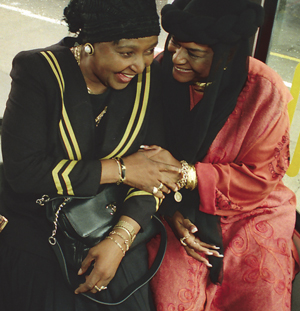 Winnie Madikizela-Mandela, left, with Mother Khadijah Farrakhan, First Lady of the Nation of Islam.
Phile Chionesu, convener of the historic Million Woman March, held in Philadelphia in 1997 agreed. Ms. Mandela spoke at the successful gathering.
"Actually, this is a glorious day—it's a sad day, but it's a glorious day and that I feel her spirit as such that I am inspired, I am motivated, I am just full. I had the opportunity to just sit and talk with her mother to daughter," said Ms. Chionesu.
The march organizers and "Mother Winnie" defied great opposition and pressure from the United States and South African governments to prevent her from participating. She was facing a politically-driven trial and legal charges at the time in South Africa. That's exactly why we wanted to get her here, Ms. Chionesu said.
"We want the world to see that our women love her, and our people love her, and we want to surround her with love so that when she does go to trial, she will know that we were with her," Ms. Chionesu said.
For many Ms. Mandela was an uncompromising revolutionary figure who fought relentlessly against the White minority regime that controlled Africa's most advanced economy. In the anti-apartheid movement, she was unfaltering against enemies of Black uplift and human dignity.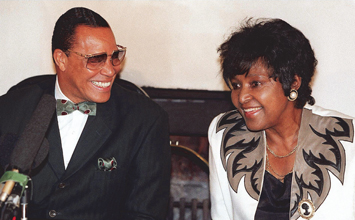 Nation of Islam Min. Louis Farrakhan (L) and Winnie Madikizela Mandela (R) laugh during their joint press conference in Mrs. Madikizela Mandela's Soweto home outside Johannesburg Jan 5, 1998. Min. Farrakhan was received by Winnie Madikizela Mandela on the South African leg of his 53 nation tour to promote "peace, atonement and reconciliation".
When she spoke, her clarion call and affirmation for liberation was Amandla! Amandla! Amandla! It's a Zulu and Xhosa word meaning "power."
As head of the African National Congress Women's League, Ms. Mandela lifted the profile of women freedom fighters globally. Observers of resistance movements and the anti-apartheid struggle said she represents generations of women fighters before her, like Yaa Asantewa, who battled British domination in Ghana and Underground Railroad conductor Harriett Tubman who left no choice but "ride or die" when escaping slavery.
"Winnie Mandela represented the spirit of Black resistance … epitomized by strong Black women," observed Ajamu Baraka, national organizer for the Black Alliance for Peace. Because of the harsh and dehumanizing conditions of apartheid South Africa, Ms. Mandela discovered, like many young Black women, that she had to be strong and do whatever was necessary—not only survive—but to be in a place where she could contribute to the liberation of her people, he said.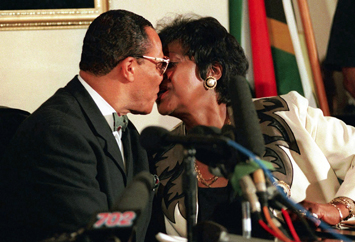 Min. Louis Farrakhan, left, of the Nation of Islam and Winnie Madikizela-Mandela, right, former wife of South African President Nelson Mandela kiss at a news conference in Soweto, South Africa January 5, 1998.
She was born Nomzamo Winifred Zanyiwe Madikizela in 1936 to a Xhosa-speaking Pondo tribe in Transkei on the South African seacoast. She was trained as a social worker when most Blacks had little education. She served Black people in her home country, rejecting the opportunity to study in America.
Her marriage to Nelson Mandela in 1958 and his subsequent arrest, trial and imprisonment by the apartheid regime, opened a chapter in her life that profoundly shaped what became her legacy—and she impacted and shaped his legacy.
Winnie Mandela was arrested, tortured and imprisoned for daring to wage war for her people against the oppressive South African apartheid regime. She was arrested in 1969 under the Suppression of Terrorism Act, put in solitary confinement for 17 months and after that placed on house arrest. Shots were fired into her home. She was declared a banned person with virtually no rights, forbidden to speak to the media and exiled far from her home for a time. She defied the restrictions.
In 1990, Winnie Mandela walked hand in hand with her husband upon his release. In 1993, she became president of the African National Congress Women's League. In 1994 she was elected to parliament, re-elected in 1999, and then resigned four years later because of a financial controversy. She denied any wrongdoing. But Winnie Mandela was the target not only of the government but of politics and the press, speaking her mind and speaking strongly. Detractors and enemies tried to label her a firebrand and a political liability. She was accused of having a South African youngster killed but her chief accuser and confessed murderer, a onetime member of the Mandela Football Team, admitted he was a longtime government informant who had set up two guerillas to be killed in his home.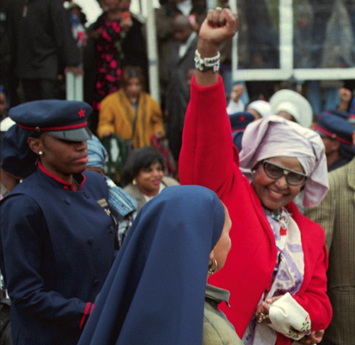 Winnie Mandela, former wife of South African President Nelson Mandela, raises a fist after leaving the stage as keynote speaker of the Million Woman March in Philadelphia Oct. 25, 1997. Hundreds of thousands of black women stood shoulder to shoulder at the march, showing their solidarity and drawing attention to issues they believe mainstream groups ignore. Nation of Islam women provided security. Photo: AP/Wide World Photos
"It meant that she had to embody … that spirit of resistance, not just for herself and her immediate family, but for the struggling South African nation," Mr. Baraka pointed out. "In many ways she began to symbolize that struggling nation to become a nation."
"And she became a spokesperson, not only for the liberation struggles in South Africa, but a spokesperson and symbol of the resistance for the entire African continent that was still in a revolt and struggling against neocolonialism," Mr. Baraka said.
"Winnie Mandela was without question a hero of African liberation, but as with all heroes, she was complicated and there were criticisms that were to be made," said Bill Fletcher Jr, past president of Trans Africa Forum.
"When you don't elevate someone to sainthood, you can look at them in balance and I think when you look at someone like her in balance, she made an immense commitment to the struggle of freedom in South Africa," Mr. Fletcher said.
"We join the world in mourning the loss of this great African sister and give our condolences to her entire family," said Abdul Akbar Muhammad, international representative of the Nation of Islam.
"We had the honor of being in her home in South Africa, when she received the Honorable Minister Louis Farrakhan," during his World Friendship Tour III, he remarked.
Ms. Mandela over the years became a "great friend to the Minister and the Nation of Islam," said Min. Akbar Muhammad said reflecting on the many visits she made to America. One of the most significant visits here, which also impacted the African continent, was when she gave a message of solidarity at the first anniversary gathering of the 1995 Million Man March in front of the United Nations, he added.
In March 2012 she gave remarks at the Nation of Islam National Center and Mosque Maryam. "When I am in this House of God, I feel liberated because it speaks the language I know, the language that refuses to succumb to White domination. Indeed, we have been so colonized that some of us do not want to be reminded that we are slaves," Mother Winnie said that day.
Always afforded great respect and honor by the Nation of Islam, when Mother Mandela spoke briefly spoke following the address by Min. Farrakhan, she was in town to receive the International Phenomenal Woman Award at WV103's "Expo for Today's Black Woman."
Blacks remain intellectually enslaved and the struggle of Black people in America is connected to the struggle of our people on the African continent, said Mother Mandela. "We could never have been totally free until you, too, are totally free," she said to thunderous applause.
"It is not possible for human nature to change," she maintained. "If they had changed, we could not have found them bombing Afghanistan and Iraq."
In prepared remarks for the Expo, which were printed in The Final Call, Mother Mandela observed: "Discrimination against Black women is multi-pronged, multi-sectoral and transgenerational. Black women are discriminated by the White supremacy; they have to contend with male prejudice fed by patriarchal notions, they suffer abuse from White women who are also beneficiaries of White supremacy," she said. "They are expected to be in solidarity with their male folks to fight racial oppression. In this regard they have little choice. They cannot sit on the sideline and watch the Black male being reduced to an endangered species. After all, these men are the fathers of their children, the lovers, and their sons. In short, there is no other species that understand oppression as Black women do."
In South African media and politics and in U.S. efforts to impact the country's Black struggle, the unapologetic and fierce freedom fighter was demonized. When her husband was first released from prison, in 1990, she accompanied him on an America tour. She vowed that if Whites reneged on their promises of majority rule and political reforms, she would be the first to return to armed struggle.
To Whites she was an unwelcome and hated voice who demanded accountability and to Blacks, she was a great, unbought champion.
Her passing trended on Twitter, with well-known names paying homage to her and little known names expressing gratitude for life, strength and integrity.
Greg Carr, chair of the Howard University Department of Afro American Studies, tweeted: "Winnie Madikizela-Mandela The one we loved The one they hated The one who stood straight The one they never stopped trying to break You achieve your last victory on this earth You transition with our love And join our Ancestors And a greater strength Nkosi, Umdala. #WinnieMandela."
ColorOfChange.org tweeted, "To those who oppose us, we say, 'Strike the woman, and you strike the rock'. Rest in power #WinnieMandela. You represent the epitome of fearlessness, activism, power and courage."
Bernice A. King, daughter of Dr. Martin Luther King and Coretta Scott King, tweeted, "Rest in power, #WinnieMandela. Grateful to have met and shared powerful moments with her. She and my mother, #CorettaScottKing, had poignant, memorable meetings."
Actor Forest Whitaker tweeted: "Rest In Peace #WinnieMandela Go with love. Go with God... your fight for human rights will continue."
Rep. Maxine Waters (D-Calif.) tweeted: "Today I mourn the loss of my dear friend & one of the greatest leaders & activists in the world: Winnie Mandela. I worked w/ her on the release of N. Mandela & to end apartheid in South Africa. We should all pay tribute to Winnie's persistence in the face of injustice & racism."
Whites tweeted vile comments and vilified her in death as they had in life, but Blacks stormed to her defense.
In South Africa, there was anger at some unflattering portraits of Mother Mandela presented by the White-owned media, accusing her of murder and acting as a law unto herself. Rami Chuene 1st Lady, a South African radio host tweeted, "I see @eNCA have edited that #WinnieMandela promo about being 'law breaker, abuser, etc'. Someone got really excited ne? Let's stick to Freedom Fighter and Mother of the Nation. Thank you."
Thabi Myeni tweeted from Durban, South Africa: "Umama was a radical black woman. A revolutionary. Don't let white media water her down to 'Mandela's ex-wife'. And may her revolutionary spirit be more alive than ever #WinnieMandela."
"Despite all attempts to neutralize her, break her spirit and silence her, she remained committed to the struggle for black liberation. Even after the first democratic elections and the ushering in of so-called freedom, she used the strength she had left to face the institutional challenges of the new democracy and refused to be co-opted by the oppressors," declared Black Land First, a movement based in South Africa.
"We warn the public to be aware of the storm that will follow. A carefully co-ordinated series of stories and lies will dominate the media to discredit this struggle icon in the following days to come. They will try to convince us that a black woman is to blame for the circumstances of apartheid. No white media should pass judgement and tell us about TRC commissions when land thieves and apartheid war lords are roaming the streets of Stellenbosch," said the group on its website. "Rest in power Winnie Madikizela-Mandela. Black women all over the world draw strength from your powerful spirit."
She is survived by the Mandela's two daughters, Zenani and Zindziwa. South African President Cyril Ramapahosa said an official state funeral for Mother Mandela will be April 14 and a memorial service is scheduled for April 11. Grieving South Africans gathered outside of Mother Winnie's home to sing songs in her honor and to pay tribute to her life.
(Final Call national correspondent Charlene Muhammad and Final Call staff contributed to this report.)