Playing with numbers and racial profiling?
By
Bryan Crawford
-Contributing Writer- | Last updated: Dec 12, 2017 - 10:52:46 AM

What's your opinion on this article?
Gang database in Chicago gets low marks from researchers and activists
Gun violence is the top crime problem associated with Chicago, particularly in neighborhoods and communities occupied primarily by Black and Latino people. The issue has long been on the radar of politicians at every level, and the Chicago Police Department has employed a number of strategies to get a better handle on the daily shootings that happen on the South and West Sides.
One of these is the Strategic Subjects List (SSL), also referred to as the Chicago Gang Database. The purpose of the SSL, according to police, is to identify those individuals who are most likely to either be a perpetrator or victim of gun violence.
This is commonly referred to as predictive policing. However, a recent study of the SSL conducted by the University of Illinois-Chicago Policing in Chicago Research Group, found that the Chicago Police department is actually using the database as a profiling mechanism specifically targeting Blacks and Latinos.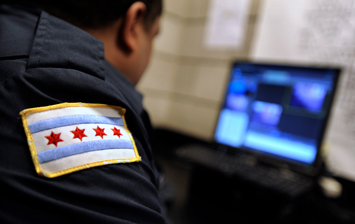 "Predictive policing is kind of a mathematical, algorithm-based method of trying to essentially predict where crime will happen and who is most likely to engage in criminal activity," Janae Bonsu, organizer with the Black Youth Project 100 (BYP100) and one of the principal researchers on this UIC study, told The Final Call. "The Chicago Police Department isn't alone in using predictive policing, but the SSL is an example of predictive policing in practice by using data points such as being arrested for certain offenses, being in a particular age group, gang affiliation, or even being a victim of gun violence. However, there are many false positives in this technological, algorithm based policing method, and it just goes to show how unreliable predictive policing is."
According to the research conducted by UIC, there are more than 400,000 people in the gang database of that 76 percent are male, 45 percent are under 30 years of age, 52 percent are Black and 25 percent Latino. The Chicago Police Department assigns a score of 1 to 500 to each person in the database, based on arrest and victimization records, as well as any known associations with anyone suspected of having a gang affiliation. In addition, any person having been arrested for narcotics possession or a violent offense—such as unlawful use of a weapon or domestic violence—are automatically added to the list.
It also appears that people who have had interactions with police based on the neighborhood they live in have also been added to the database.
Currently, there are approximately 13,500 people in the gang database who have never been arrested or charged for any of the activities that police consider to be gang related.
However, after parsing the numbers and analyzing the data, Black people, especially males, represent the largest group among any identified in the database.
"The list is overwhelmingly male, overwhelmingly Black and Brown, but overwhelmingly Black, for real," added Ms. Bonsu who explained the challenges a Black person may face by being identified on the SSL. "If they're on the SSL and they're arrested, no matter what the offense, they're not eligible for an I-bond, which is being released on their own recognizance. Sentencing enhancements for any type of crime also goes into effect for someone on the SSL. People can be denied employment, be barred from getting certain professional licenses requiring a background check. There are serious consequences for any Black person labeled as a gang member by being on this list."
Not only does this list add fuel to the fire of racial profiling by police and mass incarceration of Black people, but it also opens the door to possible deportation for many Latino men and women in Chicago who also find themselves in the database, in what is supposed to be a sanctuary city.
"The gang database is a way in which police profile and target Black youth, but it also becomes a pipeline for deportation of undocumented immigrants," UIC professor Andy Clarno, who led the direction of the Policing in Chicago Research group on this study, told The Final Call. "The findings we released were based on a statistical analysis of data released in May by the Chicago Police Department of the Strategic Subjects List. We've been trying to learn as much as we can about the database, the way it's built, the way it gets used, and what happens to the data once it's in there. But what we do know for sure is that you don't have to be arrested to end up in the gang database."
"When the Chicago Police Department conducts what they call investigatory stops, which is essentially stop and frisk, every time they do that, they're supposed to write up an investigatory stop report," Prof. Clarno explained. "Someone can be identified in the report as gang affiliated or a gang member, and they can end up in the database."
Added Ms. Bonsu, "Police act as an entry point, both to incarceration but also deportation of immigrants, both Black and non-Black."
Wilmer Catalan-Ramirez, a member of Organized Communities Against Deportation, worked as a mechanic and lived in the Back of the Yards neighborhood on the city's South Side. With no gang affiliations and no arrests, he was added to the Chicago gang database without his knowledge sometime in 2014 or 2015. Because of his undocumented status, Mr. Ramirez now faces deportation as a result of this interaction. People living in neighborhoods deemed to be high-crime and known for gang activity, can easily be placed on this list even with no known affiliation to gangs, drugs or violence. In March, Mr. Ramirez' home was raided by Immigration and Customs Enforcement officials as part of President Donald Trump's promise to crackdown on undocumented immigrants living in sanctuary cities.
"We are going to get the bad ones out," Mr. Trump said during a rally earlier this year. "The criminals and the drug leaders and gangs and gang leaders."
In sanctuary cities like Chicago, police aren't required to cooperate with federal agencies like ICE. However, they are permitted to share information—such as the SSL—between agencies at all levels. This is made easier through the Crime Prevention and Information Center, which is housed at the Chicago Police headquarters. Known as a "fusion center," it is one of 75 that exist across the United States. This means that federal agencies such as ICE, have unimpeded access to databases such as the SSL that they can utilize in their own investigations.
"On 35th and Michigan (CPD headquarters), there's someone from Homeland Security in the Fusion Center, someone from the FBI, Illinois State Police, ICE, they all have staff working there. So, data sharing is another huge issue with this kind of policing," explained Ms. Bonsu.
In the case of Wilmer Catalan-Ramirez, the Chicago Police Department admitted fault in erroneously putting him in the gang database. However, he is still being detained by ICE and facing deportation.
"There's fear, not just about being put on the gang list, but really, with all interactions with police officers," Tania Unzueta, policy director for Mijente, a grassroots organizing movement centered on issues affecting Latinos in Chicago. "Latinos don't have the same experience as Black folks in Chicago, and I think sometimes the non-Black Latinos have this hope that they'll be treated like White people and be treated fairly by the system. Latinos live in a contradiction where we expect to be treated right, but our experience is oftentimes that we're not. I can definitely say that the number of 911 calls has gone down under the Trump administration. That's definitely a sign that people are more leery of police and law enforcement."
Mr. Ramirez, with the help of OCAD, was able to get the police to admit that he should never have been in the database. It is unclear if there is a formal process to get out of the database or if there is a transparent appeals process.
No White gangs or gangsters in Chicago?
"The data shows that the Chicago Gang Database is a target list of Black and Brown people who will be the victims of immigration raids, of incarceration and criminalization, and further policing," argued Ms. Bonsu.
The findings also bear witness to words spoken by Nation of Islam Minister Louis Farrakhan, warning that President Trump and the U.S. government, have planned a war against Black and Brown people and are currently in the process of executing it.
Interestingly enough, the Chicago Gang Database has identified no White person as being affiliated with gangs or drugs, nor does it identify one White street gang organization with members who would be potentially involved in illegal activities.
"White people put this database together. They're not going to tell on their loved ones," Wallace "Gator" Bradley, former gang member and who now serves as an urban translator and political consultant and president of the United In Peace anti-violence organization. "This is the same issue with the FBI targeting what they call 'Black Identity Extremists.' You mean to tell me there aren't any White identity extremists? Steve Bannon isn't one? You're saying there's no White gangs? Does the KKK not exist? The people who put the database together definitely aren't going to tell on themselves. I'm probably in the database and I'm 65 years old."
In a department that has continued to stress more transparency and accountability, it would be hard to reconcile the findings of this particular study. However, many activists and those involved in this study agree that simply creating a list that ultimately profiles people and adding more police on the streets is an ineffective deterrent to ending gang, gun and drug violence. They would like to see it done away with because of how harmful it is to individual lives and communities.
"Under the Trump administration, anyone suspected of anything wrong, is a target. And it's really astonishing that people don't find out they're even on this list until it's too late," said Ms. Unzueta, who also explained that any Latino who finds themselves on this list are no longer protected under Chicago's Welcoming City Ordinance which offers a sort of safety net from ICE, meaning local police can't turn someone over to immigration authorities without due process. "We've had some attorneys explain how this list violates people's constitutional rights, we're also meeting with city councilmen to talk through the different policy options that exist that get us closer to getting rid of the database. But one thing we do know is that people want safety in their community, but a bigger gang database and more police won't make anyone safe."
"The police know who's doing wrong. They know who the players are," said Mr. Bradley. "The police also know there's a structure out here where people who used to be gang members are doing work in the community and trying to steer kids right because they're now parents. But they don't want to showcase that. We've got to deal with the truth as it is. They've always been racially profiling us. The Most Honorable Elijah Muhammad told us that a long time ago. Parents need to tell their children that all Black folks are targeted. They need to tell their loved ones if they're out there and around [criminal activity] they're watching you and they know who you are. We can't complain about this database they've got on us. They've always had it."